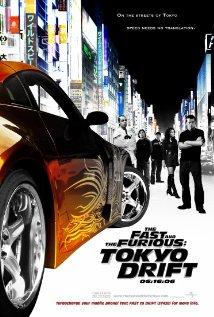 Image from here.
While I had to do some work over the weekend (boo), Alvie popped in this cool movie because we still had the
Fast & Furious
fever. There is also another reason but I'll get to that later.
The plot isn't very complicated, an American dude from Alabama (played by
Lucas Black
) finds himself on the fast streets of Tokyo and gets exposed to the foreign racing scene. The biggest difference here, apart from the language, is that the most used driving technique is (surprise, surprise) the
drift
.
For all the driving noobs out there, drifting is the action of a driver deliberately skidding the tires of his car in order to glide the car at a certain angle and direction. Now, I have never really been a racing fan, aside for my occasional childhood stints playing Gran Turismo or Mario Kart (that counts, right?), but you don't need to be a driving expert or even a fan to know that drifting
rocks. 
It is the art of losing control. It's cool enough to have a movie based on just that.
This movie, in contrast to the more recent films in the franchise, is more about the racing. In
Fast & Furious 6
, even during the few times there was ever a race, you don't really get to appreciate it since the scenes are intentionally messy and fast. You really get to appreciate the races in this movie. However, it doesn't have much of a plot and the characters are lame (except Han), so don't expect too much.
Notable Cast:
Sung Kang
as Han Seoul-Oh - This cool character is a Fast & Furious regular
Bow Wow
as Twinkie - The not-so-lil' child rapper from the recent past.
Brian Tee
as Takashi - He will also be playing Liu Kang in the upcoming second season of Mortal Kombat: Legacy. I wonder if he can mumble well enough while doing the bicycle kick.
??? as ??? - Stay tuned for a surprise.
Verdict: 3/5 -
Nothing amazing, but worth watching for the drift sequences alone. The drifts up the parking lot ramps were awesome! I'm no speed demon and it tempted me to make an attempt. Haha.
Scroll down below the trailer for fun trivia that would be a spoiler not for this movie, but for Fast & Furious 6!
Loved The Fast and the Furious: Tokyo Drift? Hated it? Let me know by commenting below, or just
tweet
me!

Here's the trailer!
Movie Review: Fast & Furious 6
***FAST & FURIOUS 6 SPOILER ALERT***
Surprisingly, the events of this movie are actually set
after
 Fast & Furious 6! That's the other reason why we watched it. Fast & Furious 7 will be set after this, and that movie looks like it's going to be awesome! If you've watched the latest film, you'd know why. ;)