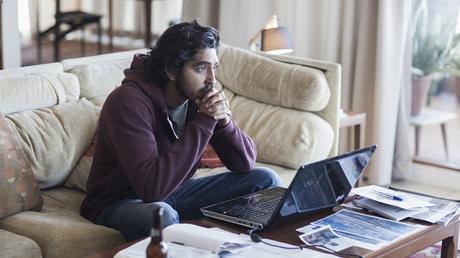 Starring: Dev Patel, Sunny Pawar, Nicole Kidman, Rooney Mara
Directed By: Garth Davis
Written By: Luke Davies, Adapted from "A Long Way Home" by Saroo Brierley
Release Date: January 6, 2017
Rating: B-
Who we are and where we come from are fundamental concepts when it comes to creating an identity for yourself. The feeling of belonging is also key when it comes to solidifying. Garth Davis' 

Lion

 is a film that examines how the people around us truly affect the way we see ourselves in a world that has us constantly questioning who we truly want to be.

 
This is the true story of a young boy named Saroo who finds himself lost after he falls asleep on a freight train while waiting for his older brother, Guddo. The tale is broken up into two parts. The first part involves Saroo's struggle to survive after he finds himself on the opposite end of the country hungry and alone, without much knowledge of where he's come from. It's heartbreaking and this is mainly because this part of the film so tightly constructed. In many films about missing children, we typically see the perspective of th family and we feel for them because we can fully understand what they're going through. Here it's the other way around. Saroo has no idea where he is, why he's there or how he can get back. In one scene, Saroo falls with other homeless children, but he's woken up by some strange men. They all flee and Saroo escapes, but the situation is never mentioned again. Both Saroo and the audience members know something is wrong, but he doesn't know exactly what's happened, so neither do we. The world is a big and scary place for a boy that hasn't even hit puberty yet. Leaving out all this information makes it just as scary for us as it is for him. 

 
The second part of the film involves an all grown-up Saroo played by Dev Patel as he searches for his real family. Saroo was adopted by an Austalian family halfway throughout the film. Seeing a treat from his old life at a party brings him right back to the moment he laid eyes on them when he was child. Many years have gone by and these years are omitted from film probably because it would have made the film far too long, but the film's lack of a cohesive narrative structure doesn't deter us from fully understanding Saroo's situation. Who he was during that huge time gap isn't of importance because he was assimilating; he was becoming a new person and adapting to a new culture and we're entertained and hopeful for Saroo. He mispronounces words and is mesmerized by the concept of a television and like his new parents, we're happy him and it's pretty much all we need to see. When we encounter Saroo as an adult a few scenes later, some momentum is lost because it is such a huge time jump, but we're slowly drawn back in once the film speeds back up and we see the toll his assimilation has taken on him. 

 
Saroo was once solid in his relationship with his mother (Nicole Kidman) and girlfriend, (Rooney Mara), as well as his future in the field of hospitality, but soon that all crumbles once he's reminded of the life he once had. Who is he now? Who would he have become had he not gotten lost all those years ago? What's happened to his real family? And more importantly, are they still looking for him? Saroo is on both sides of the fence because while he enjoys the life he's lived; he hypothesizes about the life he could've lived had he not gotten lost. The movie's tagline is: "The Search Begins," While the movie depicts Saroo's search for his family, it's really about the search for his own identity. However, he wants to do so without seeming ungrateful towards his adoptive family. He sees looking for his real family is an act of as as act of betryal, but he doesn't relaly know what he wants anymore. 
In the 2012 film adaptation, The Reluctant Fundamentalist, our protagonist, Changez, has a similar dilemma. He assimilates just as Saroo does and he's confident about the person he's seemingly become until he sees something that throws him for a loop. Saroo's childhood snack sends him searching for himself. Changez' life-changing event was 9/11. However, unlike how Saroo fears betraying his adoptive family and his newfound culture, it's Changez' culture that betrays him. The home he's found in America ends up turning on him. While he can simply just go visit his family in Pakistan, he chooses not to because his family is now America. However, after the events on 9/11, the America loves not longer exists. It changed, so he changes, too. He attempts to go back to the life he once lived, but he feels as if it no longer fits. 
So, who are these men? Where do they belong? Where do their loyalties lie? Saroo ends up finding his way back home and reunites with his real mother, not without a heart-breaking conversation between he and Nicole Kidman. The Reluctant Fundamentalist ends with Changez moving back to Pakistan to become a professor and with a voiceover of him saying, "Looks can be deceiving...I'm a lover of America", even though America betrayed him. We do not know what's going to happen to these men, but that's not the point. What matters is that the film understands these men because the more it does, the more we can accept their actions and grow to understand them.