I was recently watching a movie on DVD and they were showing trailers of other movies, one of which was a movie called Grace. As a woman with over 22 years of sobriety, the the trailer for this movie was very compelling and it caused me to think about it and my own recovery journey after the movie I was watching was done. I got on the internet to find that movie and lucky enough, I was able to find their website, Grace The Movie, and I sent an email. Shortly afterward, I received a response to my email and was provided with information on watching the movie in exchange for my review.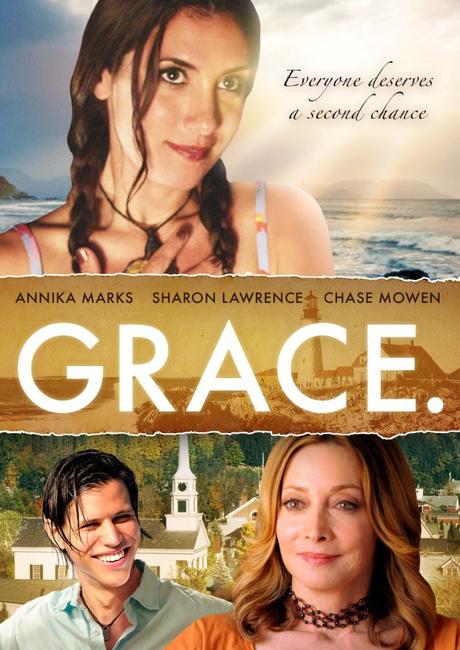 Right off the bat, I'll let you know that this movie has nothing to do with the two other movies named Grace, both horror-type flicks - one from 2009 and the other from 2014. Instead, this movie stars Annika Marks as Grace Turner, the alcoholic who wakes up on New Smyrna Beach in Florida, face down and trying to figure out what happened. Why did she wake up, half-dressed, on a Florida beach, 1100 miles from home?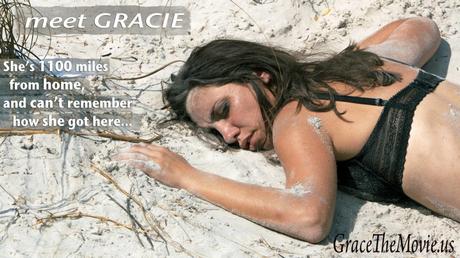 She tries to pull herself together and finds her way to a local café so she can call her father to bail her out. She has nothing - no clothes, no money, no job. when her father shows up, he lets her know he isn't going to clean things up for her this time. She heads to the corner bar to find relief in more alcohol and ends up getting arrested for public drunkenness and attacking a police officer. Now her only way out is six months in jail or 90 meetings of Alcoholics Anonymous in 90 days. The terms of the probation require her to attend these meetings in Volusia County, Florida. The café owner, Sonia (played by Sharon Lawrence) offers her all the things she doesn't have - a job, food, clothing, and a home.
Sharon Lawrence is perfectly cast as Sonia, a woman haunted by her past who has recognized through the damage and the heartache that her addictions were not something that she could ignore or handle on her own, and she's working the recovery program in a way that allows her to be a mentor to Grace and helps recognize that healing begins through that rigorous honesty. Grace is not used to strangers caring about her, but perhaps the power of community can help her sidestep the landmines lining her path to sobriety - especially the ones she's laid herself.
There is a certain honesty to this film that could only be voiced by someone who went through the nastiness of addiction. Annika Marks' performance was beautiful. This movie isn't all sugar coated with Hollywood glitz, but instead, it's some "real life" kind of early sobriety and recovery going on. There's a woman, Jesse, that uses the doors of AA as a revolving door, and she can't seem to grasp the idea of sobriety. Ultimately Jesse becomes an obvious tragedy of the disease of alcoholism.
The AA scenes are what AA actually looks like rather than other films I've seen that make AA seem like a depressing, dark experience. The people at the AA meeting are welcoming and try to help Grace while also trying to help themselves. There's a young man, Reef, doing some 13th stepping in this movie about the 12 steps of Alcoholics Anonymous. (Note, there is not a 13th step in AA, it's a term for guys who hone in on newcomer women).
If this subject matter remotely interests you, then this is definitely a movie you'll want to see. Great plot, great acting, kept my attention from beginning to end. The movie is rooted in powerful performances by Annika Marks ("The Sessions") and Sharon Lawrence ("NYPD Blue"), "GRACE." compassionately looks at the disease of addiction through a young woman inching towards redemption. As a side note, this movie was written by women and produced by women, which I find to be a very cool aspect of the movie too. You can connect with this movie on their website, Grace The Movie, or on Facebook or Twitter. Here's the official movie trailer:
I was provided with a digital copy of this movie by Dolger Films in exchange for my honest review and unbiased opinion.
Please make sure to visit my homepage and subscribe to my blog for more great posts on running, fitness and lifestyle topics as well as food, product, music and book reviews, and more!