This is it, this is the pinnacle of nerdom and geekery.  San Diego Comic-Con is the be all, end all of your hopes and dreams wrapped up into one location.  It doesn't matter if you are a card geek, toy geek, comic book nerd, pop culture junkie, cosplayer, artist, film fan, table top geek, video game aficionado, or just a big geek in general, there is a place for you to call home.  The documentary by Morgan Spurlock is a loving tribute to all things Comic-Con and for me, one of the funnest documentaries I saw at the True False Fest.  I made it my mission to get front row seating (check), partake in the spectacle of this film (check) and meet Morgan Spurlock (double check), but ultimately Comic-Con Episode IV is truly the nerds right of passage and solidifies that yes, Geeks will inherit the Earth.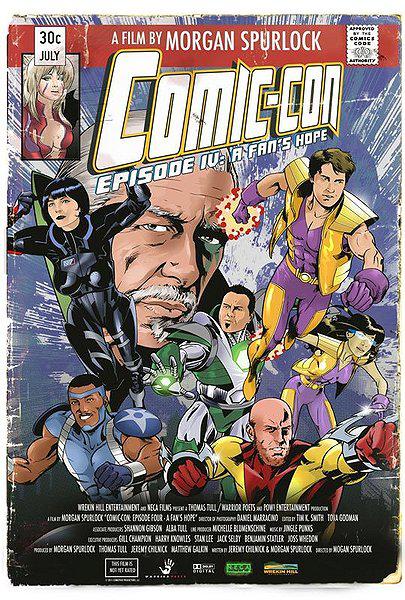 Comic-Con Episode IV: A Fan's Hope is a documentary that brings together nerd and geeks alike from across the world in one loving tribute to the Comic-Con that is the mecca for us geeks.  Morgan Spurlock managed to get together some of the biggest figureheads of different industries to come on screen and tell us what makes Comic-Con special to them and why it's important.  Directors, TV actors, artists, designers, geek personalities, fans and everyone under the sun all appear on here to give a little something to film that exemplifies the experience.  But it's not just a cavalcade of celebrities that tell us about the Comic-Con meaning, the film actually shows a story of a few select people that make up the Comic-Con experience.  From the designer breaking into Hollywood with her costume skills, to the young artists hoping to land a job creating art, from the comic book dealer struggling to stay afloat in a world where digital prevails, and the young love that can be found between two like minded geeks, that is just a portion of the people that make up the Con.  All are given a loving touch of care and understanding while being incredibly entertaining and touching.  It's a movie for geeks by geeks.
I  might be a bit biased with this review and that is a fair thing to say.  I won't make any bones about this, the film will get a perfect score from me.  I don't care, it gets it because it hit every geek button I have and I am not ashamed to say this.  In fact, I even submitted my information to be one of the few people selected for this film and no I won't link or post the video that I submitted to the selection process.  That is private stuff man.  But the loving touches of the documentary come from the personal stories that are showcased that are just a small part of the comic-con experience for people.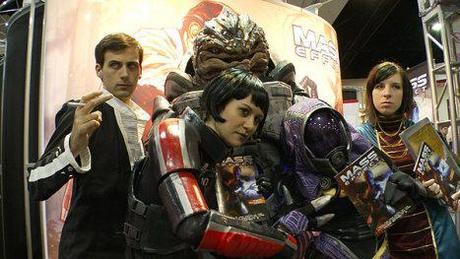 In attendance that night at the True False Fest showing was Skip Harvey and Holly Conrad, two of the fans who's stories were told in the film.  Skip, a native of Columbia, MO strives to be a comic book artist and set his sights on the Con to get his work shown and critiqued by other artists in the industry.  Charming, sociable, and a geek at heart, his journey was to make it big and get signed, something that any artists wishes to happen to them.  We follow him to San Diego and see the process it takes to get your work vetted.  Holly was a costume designer hoping to make it big in Hollywood and her journey to Comic-Con was to showcase her work to the biggest crowd you can imagine.  Her collaborative work on costumes from the Mass Effect series was awe inspiring and down right incredible in the detail and love that goes into the work.  We watch her group rehearse for the big show and the hope of making an impression.
Their stories aren't the only ones as we see stories about a young couple who met at Comic-Con, fell in love and eventually propose at the Con, encapsulating their experience together.  Another story follows a toy collectors dream of getting a badass looking Galactus collectible.  And the story of a comic book dealer looking to stay alive in an industry where the digital format is pushing out the old brick and mortar corner stores.  Their stories all appeal to a certain geek section of society, with each using the experience of the Con to achieve a particular goal.  All the stories weave together at the San Diego Comic-Con convention, a place where all things geek converge into one small/huge space.
The essence of the experience is captured in the film, but that is just a taste of what it really is.  What we saw was an intimate look at the stories of a few people and their goals, but the scope of Con is just too massive to comprehend.  We are talking about lines, panels, lines, vendors, lines, advertisement, and even more lines.  It is just sensory overload there but the film does a good job in keeping a focused lens on the subject at hand.
Seeing the film in the crowded theater was amazing.  People were cheering and clapping at the sight of their favorite geek idol and that is something to cherish.  It is a testament to the documentary and the fact that there is something for everyone there.  When you hear a crowd member show elation at an obscure writer or actor or whatever, you kind of smile at that fact.  It means something different to everyone and while the Documentary was about the fan experience of comic-con, it makes you want to go out there and get your own experience and story.  To me, that is what it is all about.
Rating: 5/5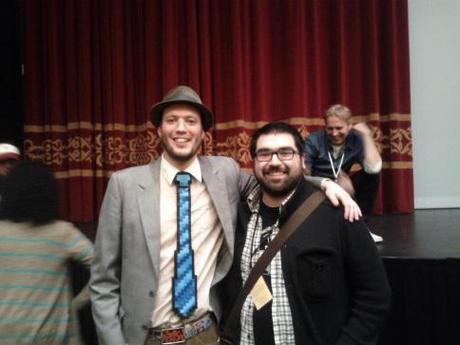 Me and Skip Harvey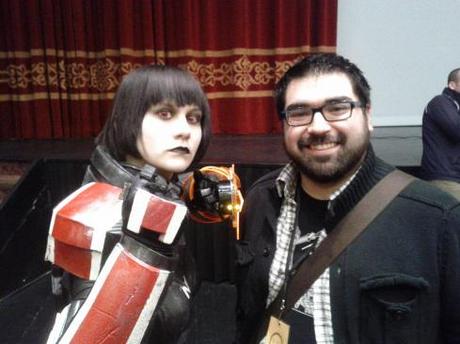 Me and Commander Shepard (Holly Conrad) *swoon*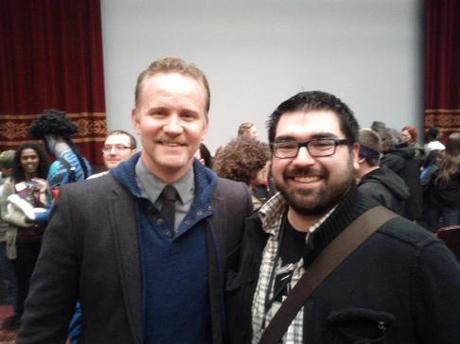 The Man Morgan Spurlock!
*images via RottenTomatoes