Hello there! If you are new here, you might want to
subscribe to the RSS feed
for updates on this topic.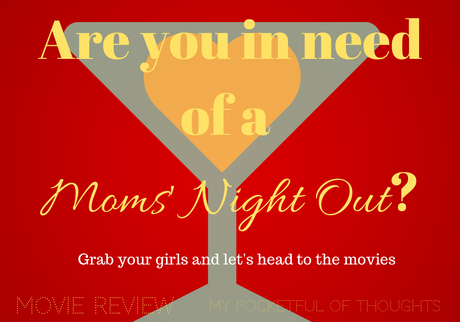 When was the last time you had a Moms' Night Out? If you're looking for a movie that anyone can identify with then you're in luck. Moms' Night Out has a cast of character's that the entire family can relate to! Have you seen it yet? No? Keep reading to see my thoughts in this movie review!
Mom's Night Out will make you LAUGH!
I was skeptical at first about watching Mom's Night Out, however, knowing now what it feels like to want a mom's night out I bought a ticket. It started off with a Mom blogger. In the theater I turned my head left and right, as if to tell my movie theater neighbor, hey that could be me. I could totally see myself overwhelmed as Daniel is out doing a side job. I'd be in the closet, with a glass of wine, clutching a purse that was too small to fit all my mom necessities. He'd come in and hold me too. I was Allyson.
Mom's Night Out will make you TEAR UP!
If you can identify with the main character in a movie, than the movie is worth watching. However, what I wasn't prepared for was the advice Biker Bones gives towards the end of the movie to Allyson. Do you question if you're enough? Are you (wo)man enough to work full time or take care of a home or raise children OR be a good wife/husband/child? These are thoughts that have been racing in my mind since I got engaged in November. God made us all in his image, to be perfect and enough for anything that comes our way. This movie spoke to me as a future wife, a mother and a writer. I think we can all relate to feeling like we're not enough!
I have a glimpse of the scene of Bones and Allyson for you here:
If you can't relate to Allyson, Mom's Night Out gives you 3 other ladies and 4 guys to relate to for the fellas. Sean Astin plays the supportive husband to Allyson. He reminded me a lot of Daniel in how he supports Allyson's dreams. I do believe that supportive husbands make the world a better place!
Mom's Night Out will make your heart feel FULL!
Here's the trailer for Mom's Night Out:
     
Did you watch it and like it? Will you watch it now?
Until then,