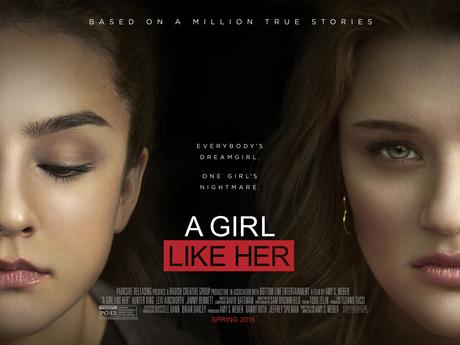 A Girl Like Her (2015)
Starring:
Lexi Ainsworth, Hunter King, Jimmy Bennett, Amy S. W

eber
Written By:
Amy

S.

W

eber
Directed By:
Amy S. Weber
Release Date:
March 27, 2015
Rating:
4.6/5
 Summary:
When high school student, Jessica Burns tries to committ suicide, we're left with videos of the torment she went through by the hands of her peer, Avery Keller. But everything isn't so black and white when it comes to the situation at

hand
My Thoughts:
"Successful suicide is permanent. It is not temporary. You will not come back to see your father, your mother, your brothers, your sisters, your relatives, your friends. No one."
This line hit me hard. Scratch that, this whole movie hit me hard. As someone who's dealt with depression and has attempted suicide before, watching a movie like this started the waterworks immediately because it's the first thing we see. We start this film off with one of out leads, Jessica (Lexi Ainsworth) attempting to commit suicide by swallowing pills and later on her parents find her and she's is promptly hospitalized. Jessica is now in a comatose state from the pills she attempted to swallow and the story that was once about the wonders of high school has now turned into a study/investigation to try and not only find out what happened to Jessica Burns, but what happens in many high schools across the nation.

And what happened is Avery Keller (Hunter King), but to you it may be Helen Jensen or Nick Myers who whomever, but the issue is about bullying because it happens everywhere and it's important and something we need to talk about which is what this movie is trying to do. It's trying to make bullying a talking point, but it does something interesting that you don't see too often. Throughout the film, we see the testimonials of people in the school who knew what was going on and didn't say anything to those who knew nothing at all, like her parents. Avery's snide, vicious, passive-aggressive comments are captured on camera via a pin that Jessica's friend bought from her, but throughout the film, before we see the bullying to the full extent, we hear gossip about what it is, we hear people talk about how normal bullying is and how it happens everyday, we hear people talk about how they never saw Jessica's suicide coming because most of the time people don't and we see it in her parents, from some of her peers and some administration. "Why didn't you tell me what was going on?" "Why would you do this?" "I don't understand." "What could we have done better?" These are the things you hear when you someone tries to commit suicide. Lots of questions, with not many answers and it's a sensitive subject that the movie tackles extremely well.

 This movie is real and raw and I just can't not think about this movie and this is partially because of the way it was shot which is partially done in found footage style and the rest in the typical mockumentary style, which is a huge asset that creates this layer of realism and ingenuity. But more importantly, what the filmmaker does so well to create a unique perspective on the issue is add the the perspective of the bully to the film. We see Avery's very sad home life  with her overly-eager mother, her brother who doesn't seem to care about anyone, but himself and her barely there father and we begin to sympathize with her. We don't just stick to Brian's, Jessica's best friend, or Jessica's side, but we humanize the role of Avery, the bully's side because bullies don't just bully people for no reason, but the bullying that Avery is doing is mean, venomous and just straight evil because of the fact she has no one in her life to connect to and it's real, it's raw. It mad me sick, but that's because of Hunter King's acting. Topped with some sharp eyeliner and sharper lipstick, her acting is phenomenal and she doesn't stick with the typical mean girl troupe in her bullying. It's eviler than anything Regina George could've done, but what the movie doesn't stray from is the fact that bullied people are the ones who are hurting. They're hurting enough to hurt others and soon it just becomes a cycle. Bullying cannot stop until the bullies are healed, but most people just see bullies as evil creatures who commit these horrible acts, but they're just as human and as hurt as the people they bully.
A
Girl Like Her
paints a picture that's not one-dimensional. It's raw and hits home with a sucker-punch that'll leave you reeling for days. Its a movie that shows sides of problem from the both the perspectives of the bully and the victim because every sideof the problem matters if we're trying to call for change and it's a movie that should be shown in high schools everywhere

and that most people should see.