Identity Theft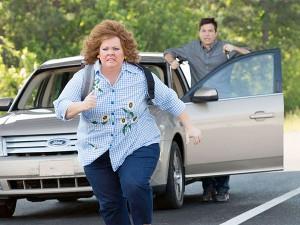 A case of mistaken identity and a wild trip characterizes Identity Thief. Sandy Patterson, a name that Jason Bateman and Melissa McCarthy both share, must face court charges in Denver, Colorado. The authorities believe that Jason Bateman is guilty, but the truth is that Melissa McCarthy is at fault. On top of that, she has stolen his identity and credit cards. Bateman goes cross-county to find and bring back McCarthy to face justice in Denver. McCarthy is hip and delightful as an identity thief. Bateman and McCarthy have terrific chemistry as they fight, embarrass, argue and help each other. Their zany adventure back to Denver is funny and the supporting cast is quirky and authentic. The language and sexual content take away from the focus of the movie. However, there is still much to be enjoyed from Identity Thief.
Side Effects
Drama, mystery, thriller and suspense all describe the movie Side effects. Jude Law stars as Dr. Jonathan Banks who helps Emily Taylor, portrayed by Rooney Mara, with her various ailments by prescribing certain drugs. When the drugs do not work, Mara receives a drug named Abilxa, which enables her to be herself. However, there are some disturbing side effects, which climax in Mara killing her husband. There are many twists and turns in Side Effects. Law shines as a human doctor who struggles with how to respond to everything that has happened. The movie provokes deep thoughts about the true benefits of drugs and their side effects.
A Glimpse Inside the Mind of Charlie Swan III
Limited released movies include cult-classic Top Gun with Tom Cruise, Spiders 3D, The Sorcerer and the White Snake, The Playroom, Unfinished Song, Lore, Ferlinghetti and A Glimpse Inside the Mind of Charlie Swan III. A Glimpse Inside the Mind of Charles Swan III, features a vibrant Charlie Sheen as Charles Swan III in this comedy highlighting a portion of the life of Charles Swan III during the 1970s. Sheen plays a graphic designer successful in business and with women. Surprisingly, his attractive girlfriend dumps him. Confused by the breakup, Sheen spends most of the movie dealing with that loss and what to do next. Sheen does amazing job as Swan struggles through various emotions on how he should view his ex-girlfriend and deals anger, love, hate among other emotions. Swann gets help for his confusion, various fantasies and dreams from supporting casting members Jason Schwartzman, Bill Murray and Patricia Arquette. Sheen and Schwartzman, who is Kirby Star, have terrific chemistry together, as does the rest of the cast. Swan and his companions go through a number of unique experiences, which are entertaining, but the story itself seems to get mucked up.
Upcoming Movies
There are a number of upcoming movies being released on February 13 and 14. Set for nationwide releases include kid-friendly Escape from Planet Earth. Another Die Hard Movie starring Bruce Willis is A Good Day to Die Hard. The other movies are romantic drama Safe Haven and Beautiful Creatures. All of Friday's movies are limited releases. Those movies are Midrange, The Bitter Buddha, No, Like Someone In Love, The Power of Few and Saving Lincoln. Saving Lincoln, starring Tom Amandes, is a film about President Abraham Lincoln's bodyguard Ward Hill Lamon. The focus of the movie is on Lamon's service to Lincoln and disrupting various assassination plots against the president. Check out different online sources to buy concert tickets or movie tickets to make your weekend a little bit easier.
Image Credit: wvs