I am at a loss for words with this movie.  It has zombies, which is a good thing, even if they are being bashed over the head (HA PUN) of the consumer public and then the typical wackiness that  is Japanese cinema.  If you combine the two items together, you just get a wacky Japanese zombie flick.  What sets it apart from the typical fast moving, ominous horde of the undead in movies, is that this is a just an offbeat comedy about two friends looking to save the country of Japan with the power of zombie killing jujitsu.  I know it sounds ridiculous that it is the fighting style tat Steven Seagal would use on a daily basis, but you got to hand it to Japan for taking the genre and making it weird.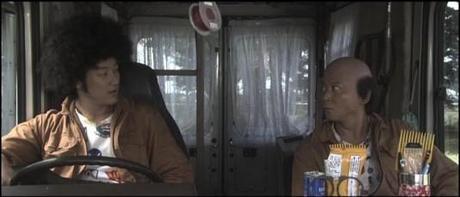 Two dim-witted garage employees do battle with the legions of the undead after a massive trash dump in Tokyo starts spawning zombies in this outlandish horror comedy starring Tadanobu Asano and Show Aikawa. Fujio (Asano) and Mitsuo (Aikawa) may have paying jobs, but most of their time at work is spent perfecting their wrestling moves rather than getting things done. After accidentally killing their boss, the bumbling duo attempts to dispose of the body in Black Fiji – a massive trash dump where the locals throw away everything from old food to leftover refrigerators. But Black Fiji has just reached capacity, and as the zombie apocalypse begins, Fujio and Mitsuo must go to great lengths to preserve their friendship and save the human race. ~ Jason Buchanan, Rovi
If there is anything to take away from the movie, it is to recycle and reduce the amount of trash we create on a daily basis.  Tokyo Zombie posits that the zombie apocalypse is caused by such waste litter and trash, which I deem more as a cover for the hippy agenda, but I will forgive the environmental subtext of the film since it is pretty freaking entertaining.  It has just the right amount of wackiness that you kind of start to enjoy the ride more than the story, which does have some faults and not the strongest script.  This would be my only gripe of the film, but the fact that the two leads are just so buddy buddy, it makes it hard to hate the movie.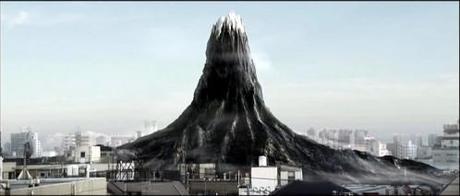 The two leads are actually some of my favorite Japanese film actors.  Tadanobu Asano has been in some off the wall films like Shark Skin Man and Peach Hip Girl, Electric Dragon 80.000 V, Ichi The Killer and even the recent superhero flick, Thor.  Each of those films really kind of suit his acting choices as each film has him playing this rough, offbeat character, whether it is a sadist Yakuza member or even a man with electricity coursing through his veins, each role is just insane and entertaining.  In Tokyo Zombie, he doesn't disappoint as the jujitsu master zombie killer.  His partner in crime and fellow zombie killer/eventual zombie, Sho Akiawa has  been in some amazing films, primarily Takashi Miike films.  He brings a rather, dull, dry humor to the mix, but it is a nice contrast to Asano.
I know that this all seems rather ridiculous, the premise of the movie anyways, but it's the little things in the movie that make it enjoyable.  Also watching guys use jujitsu to dispatch zombie is probably one of the more badass ways to kill zombies, one step below just exploding their heads with your mind.  Along with the zombie killing, there is a lack of zombies or not enough zombie killing, which makes you savor the action.
If you want to check this out, it is currently on Netflix Instant Stream, so it wouldn't hurt to give it a watch, with some sort of liquor if you want.