I remember a time when I had nightly poker games at random friends houses with the television tuned to the non-stop coverage of everything poker. Sure our games and wagers were meager and not as exciting as the games on television, but damned if it wasn't cool in some weird high school way where we felt like champs when we took the pot. I know I might catch flack for this, but I found the sideshow circus on the television far more interesting than the game taking place in poorly lit basement on the bargain sale felt poker table top that you can get at any Walmart. I mean, yeah you are spending some times with friends and playing poker, but come on, your tells are obvious and I drew a straight on the flop, you can't WIN.
The poker on television was a spectacle to behold with the cavalcade of personalities that are fit some weird noir-ish archetype. You got the naive, lucky beginner player, then the willy veteran, the poker legend of old, the mysterious foreign national and even the wild card player of the table. Also there would occassionally be the femme fatale who was there in a low cut top dress as her weapon of choice, which was always a nice change of pace. So a movie comes along that tries to capture the wackiness of the poker world and does so with a free spirit and a ridiculous ensemble cast of actors and actresses to play in a poker tournament. It's a good change of pace from the usual back alley and high stakes poker films we usually see and a entry into the mockumentary genre.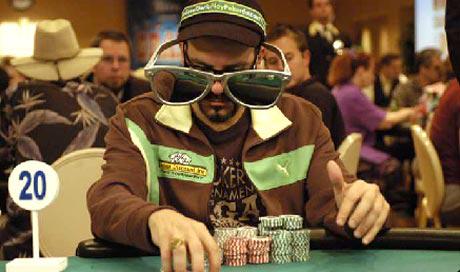 Incident at Loch Ness director Zak Penn takes the helm for this mockumentary that finds film and television star Woody Harrelson entering the Grand Championship of Poker in hopes of saving his late grandfather's popular hotel casino from a scheming real estate developer. As the wrecking ball swings ever closer, Harrelson continually ups the ante in order to take home the top prize at the world's most prestigious poker tournament. Co-stars Ray Romano, Werner Herzog, Cheryl Hines, David Cross, and Dennis Farina all put on their best poker face for a comedy where all bets are off and anything can happen. ~ Jason Buchanan, Rovi
If you are a fan of the Christopher Guest documentary style films, this will be right up your alley. While Guest's films follow a script that has a particular outcome to, The Grand is actually just one big improv comedy film. The colorful cast of actors, ranging from dramatic actors to stand up comediens, all provide a free flowing form of acting and communication in the film. They have their parts and they are left to their own devices to make that character come to life. What you get is a slightly unscripted, off the cuff, comedy film that plays fast and loose with the game and genre.
The Grand is a much more refreshing poker film as it not only captures that televised, tournament feel, but also manages to lampoon it a little and point out how some of the players in the poker world are characters made for television. I must admit, the appeal of this movie comes from the actors and their personalities. David Cross plays the wild child of the poker world, one who will wear the most ridiculous outfit and act like a kid at the table all for a chance to throw them off tilt. Then you have Woody Harrelson who was the golden child at one time, but a fall from grace leads him to try and reclaim the glory. But the pinnacle of this collection ensemble is Werner Herzog who plays the mysterious internationl player. I was fricking in stitches when he showed up and just went off script and came up with the most outrageous demands and say the most ludicrous things. Maybe it's just me, but I love see an established documentary filmmaker like Herzog play a charicature of a poker player and ham it up.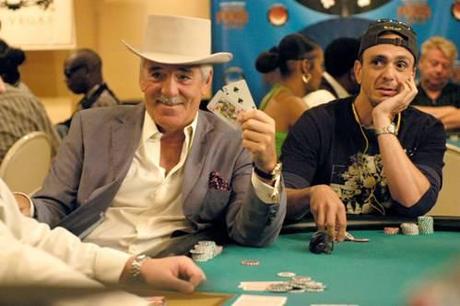 It's a good movie, The Grand, with a free flowing story line and made up on the spot comedic moments. When you get a talented cast like that together, you got to just let the camera role and let things happen. They all have a character that they inhabit, so set them loose. I love the fact that Director Zak Penn left the ending of the film up to an actual poker game between the main characters of the film. It gives it a realistic and uncertain feel as you shift from the highs and lows of winning and losing that happens on the game, almost a mimic of what happens at the final table of play. That I think sets it apart from the Christopher Guest style mockumentary films, but I do prefer a Guest film more often than not. Overall it is a solid comedic film with some fantastic ensemble actors and actresses who are allowed to do what they want with their characters. It's natural and funny, while being a solid film.