Mads Brügger must walk around with extra large pants because of the fucking massive balls that man has.  I don't know what you do for work or even what you do for kicks, but I am sure poking fun at the postcolonial African nation of the Central African Republic and exposing the seedy corruption that happens there is not your idea of work or fun.  The Ambassador is certainly one of the most impressive, scathing and funny documentaries out there, all anchored down by a overblown caricature of the human known as Mads Brügger.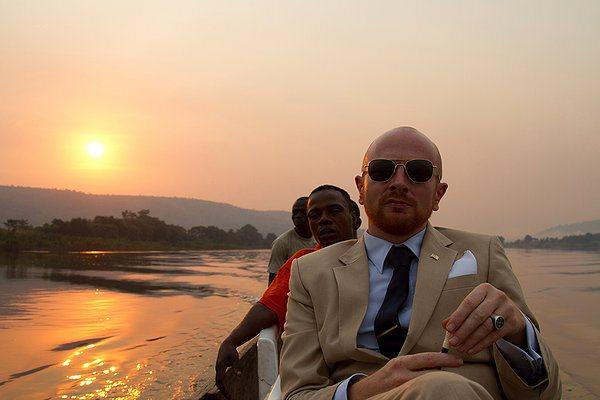 This darkly comic, genre-bending piece of gonzo journalism from international provocateur Mads Brügger rips the corroded lid off the global scheme of political corruption and exploitation happening in one of the most dangerous places on the planet: the Central African Republic. Armed with a phalanx of hidden cameras, black-market diplomatic credentials and a bleeding-edge wit, Brügger transforms himself into an outlandish caricature of a European-African consul. As he immerses himself in the life-threatening underworld of nefarious bureaucrats, Brügger encounters blood diamond smuggling, bribery, and even murder — while somehow managing to crack amazing razor-sharp barbs at every step along the way. — (C) Drafthouse
The Ambassador is a brilliant piece of gonzo journalism with the sharp wit and humor to make you almost forget that you are watching a documentary about actual corruption being perpetrated by enterprising individuals looking for blood diamonds.  It's a dark look into a world that profits off the backs of corruption and opportunism.  Europeans with diplomatic passports being able to exploit the people and nation from those that looking to make a buck in the process.  Mads goes into deep cover as this wildly eccentric faux businessman who is wanting diplomatic papers in order to setup a factory in the Central African Republic, while also cutting himself a slice of the diamond trade for a mere pittance.  It's almost seems too unreal, like you are watching some twisted comedy, but it's a reality that not a lot of people know of.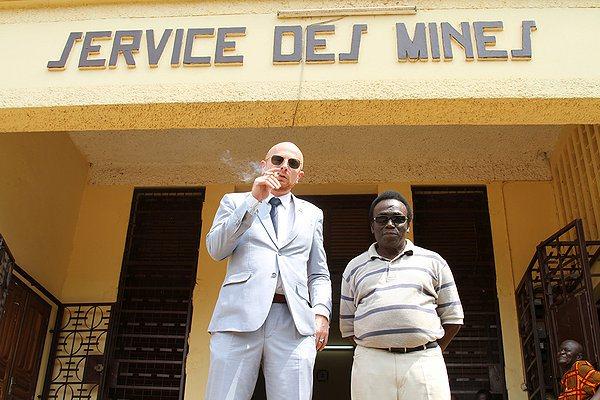 What carries the documentary is Mads and his razor sharp observation to the situation surrounding him.  Once he starts on this path of documenting this nefarious trade, there is no turning back.  He goes all in this endeavor, at times diving too deep into the illegal practices and there is a constant feeling of being outed and possibly killed by those who make their living on exploitation.  Whether he is comically smoking from giant cigarette holder, cavorting with well known slimy political contacts, he never pulls some of the sharper dialog that is smacking the person he is talking to right in the face.  It's all about playing a character and just embracing who he is, which Mads does very well, only breaking character when he narrates what is taking place.  But talking diplomatic paper processors, politicians, security specialists and the diamond mine owners, it's jaw dropping to see what life is like there and how easily someone could profit if they had the means to do so.
This is guerrilla documentary at work, something that has an air of voyeurism while still bringing us a stark reality that we might have not of known about.  Mads arms himself with some giant brass balls, a multitude of cameras and the will power to expose a corrupt society.  While there are jokes to be had from Mads and his interactions, this subject matter is no laughing joke.  It is a reality that is dangerous and profitable to those with very loose morals to profit off of the corruption that is there in the CAR, which Mads brings to light in such a risky documentary and journalism piece.  Well worth the time to see such a unique and interesting documentary if you haven't had the chance to already.