This movie makes me so happy.  The Adventure of Buckaroo Banzai Across the 8th Dimension, or Buckaroo Banzai for short, is the science fiction satire film that has become a cult hit after an initially disastrous theatrical release.  A film that is a hybrid of numerous genres, but never mocks the sources it uses to its advantage.  Buckaroo Banzai is the sort of off the wall comedic adventure that I love with all my heart, kind of like the odd friend of a group that nestles their way into the cohesive structure of our lives.  But even with the odd flair for the dramatics and one long in-joke of a film, Buckaroo Banzai remains one of my favorite genre mashup films.
Prepare yourselves for a long synopsis cause to be honest, with all the wacky adventures and cross stories that run along with the film, I am not even certain where the story even goes.  The adventure though is worth the ride.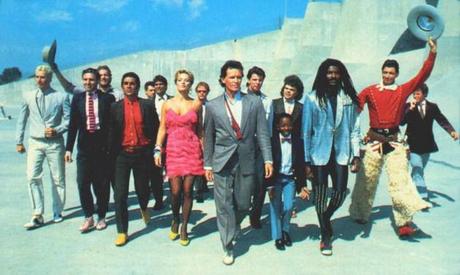 Drifting between satire and improbable sci-fi adventure, the film stars Peter Weller as Buckaroo Banzai, the son of an American mother and Japanese father who is a combination physicist, neurosurgeon, martial arts master, secret agent, and rock star who travels with his band of assistants/backing musicians, The Hong Kong Cavaliers. As the story opens, Buckaroo is driving his car through a mountain to test his new invention, the Oscillation Overthruster. However, a race of boorish aliens called the Red Lectroids have been waiting for such an item to become a reality, as they need it to return to the distant planet they call home. One of Buckaroo's arch-enemies, Dr. Emilio Lizardo (John Lithgow), who has been possessed by the Red Lectroids, attempted to created a similar device decades before; now escaped from an insane asylum, he is back at work with the Lectroids on a plan to control the world. Throw in Rastafarian aliens, unscheduled travel between dimensions, and the odd inexplicable watermelon, and you get a film that defies conventional synopsis. ~ Mark Deming, Rovi
Did that synopsis make any sense?  If it did, then you need to come over to my place and explain it to me cause I have seen this film numerous times and I get lost in all glitz, gags, one liners and genre crossing to even focus on a story.  When a film is filled with so many visual gags, wacky characters like Rastafarian Aliens, a band called The Hong Kong Cavaliers, and so much more shit just in there to crowd the screen, how can you not fall in love with this movie.  A cast that is out of this world from Robocop himself, Peter Weller, John Lithgow, Jeff Goldblum, Ellen Barkin, and Christopher Lloyd, all playing even more off the wall characters, this is just a fun film to watch.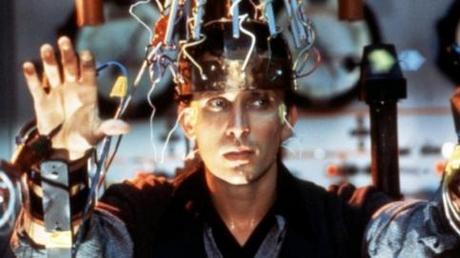 Buckaroo Banzai is really an interesting satire on a lot of the  tropes that particular genres use.  Weller's character Banzai is this overly qualified and well versed hero that knows and can do anything he wants.  He knows martial arts, is a neurosurgeon and accomplished doctor, is a musician and secret agent.  It's like they took all those typical traits of a hero in the 80s and put them all into one genetically modified character.  It's fantastic when you think about what the film is aiming to do, which is mocking the tropes of being a hero.  But the film doesn't stop at just the typical hero and villain setups, but also aiming their sights at the things that make science fiction fictiony.  You got space aliens, ludicrous technological inventions and time travel, all used to a degree that breaks the film itself.
Buckaroo Banzai is really this wonderful in-joke of a film that winks and nods enough that you feel a part of something much bigger.  Science fiction fans will adore this film, even when it is making fun of the general tenants of science fiction, but does so in a loving way.  The remarkable cast of rubes all work well with one another and seem to enjoy being involved in something so farcical that it becomes endearing.  Buckaroo Banzai is a slice of science fiction pop culture that is truly 80s in nature.  It's a far out concept, not high brow mind you, but just this wild amalgamation of tropes, characters, settings, ideas and jokes that all come together in a blender that delivers a satisfying movie of cult like status.