Yes, this movie does exist.  Yes that is a young Paul Walker and Denise Richards in  that movie.  Yes that movie does star a large, animatronic T-Rex that apparently has the brain and feelings of Paul Walkers character.  Yes this movie is one of the most amazing things ever put to screen.  Yes I will continue to talk more about this movie.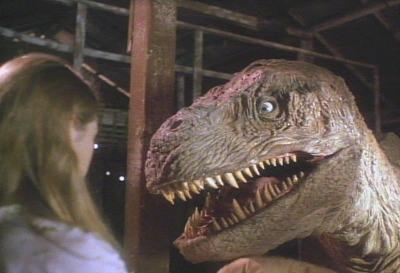 A bizarre entry even for an area of film that specializes in the offbeat, this is the story of an ideal teenage couple, a cheerleader and a jock, who are abruptly separated when a jealous rival slays the footballer. At the hospital, a crazed doctor transplants the young man's brain into that of a giant robotic dinosaur as part of his immortality-via-cobras experiment. Unfortunately, the newly transplanted boyfriend is most unhappy with his new form and with the way things have turned out in general, so he goes on a bloody rampage for revenge. When he finds the cheerleader, he is somehow able to convey his plight to her. She and a pal decide to help him by finding a new body in which to place his brain (his old one was beyond repair).  ~ Sandra Brennan, Rovi
My god, this is truly amazing.  I am going to completely ignore the fact that the plot revolves around the idea that some crazy doctor had the idea to transplant a human brain, hardwire it to a t-rex robot all for the name of experimenting his theory of immortality.  I mean don't get me wrong, I so want a dinosaur body, preferably that of a velociraptor cause they are more stealthy, but a T-Rex body is pretty cool as well, I just don't see how the theory that the crazed doctor has needs the body of a mechanical dinosaur.  I think more than anything I was really perplexed by this whole plot line.  I get that there is a dinosaur running around with Paul Walker's brain and feelings, which I always thought his acting was robotic anyways, but still that mad scientist doctor dude plot is just bizarre.  Even more bizarre than the actual movie.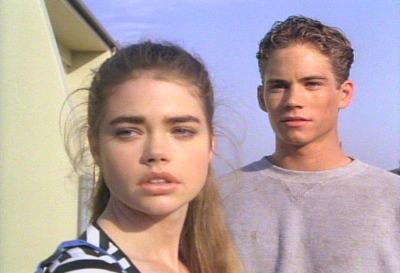 Oh yeah, so the T-Rex or Paul Walker, whatever, is just broing it out this whole movie, crashing parties and trying to share tender moments with Denise Richards who turns in the performance of a life time cause I mean how are you supposed to act when you are in a movie like this.  The story is just so ridiculous, especially considering that Walker and Richards are the victims of bullying when they are both the head jock and cheerleader of the school.  It's kind of funny actually to see that somehow being a clever reversal of the whole high school dynamics.  Also those punks outright murder Paul Walker by basically kidnapping him and leaving him in an exotic zoo pen to be mauled to death.  Those kids got away with murder.
I just had to track down this movie after seeing it talked about on Badass Digest and sure as hell, Youtube came to the rescue.  I watched this movie dumbfounded that this even exists, but then when I saw that the director was same guy who Mac & Me, it all made sense.  ONLY that guy could go on to make a movie in which the trailer labels the T-Rex as a party animal.  *groan*.  I sat there just drinking in this party animal of a movie and also witnessing the early birth of the careers of Paul Walker and Denise Richards.  See this movie because it exists and just add your own commentary track, cause what is in this movie is just fucking absurd.
Oh hey!  Here is the link so you can witness the movie for yourself.  Click here.