I am somewhat on the fence about this movie.  After numerous viewings I can't really seem to make heads or tails on my stance.  On one hand, the concept of spiritual healing movies are a bit too full of themselves.  The large overarching narratives that preach to a large audience and satisfies everyone in the end, which is ok for some people but the large picture of preaching loses focus on the central point.  On the other hand, these types of movies allow us to get immersed in the personal demons and struggles that make broken characters compelling and intriguing.  Watching some be a figure of change for others when even they can't change themselves for the better.  I think today's movie is one that falls into both categories, trying to tell a wide range story and also trying to keep the focus on one man and his gift to heal others demons, but never able to heal himself.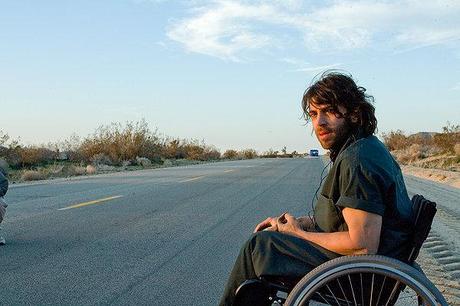 This inspired and unusual film tells the story of Dean O'Dwyer (Christopher Thornton), also known as "Delicious D," an up-and-coming DJ on the underground music scene in Los Angeles. When a motorcycle accident leaves Dean paralyzed, he abandons his turntables for a wheelchair as his once promising career disappears before his eyes. Forced to live out of his car on skid row, Dean begins his descent into depression when he meets Father Joe Roselli (Mark Ruffalo), a passionate young priest. Father Joe introduces Dean to the world of faith-healing, an unlikely way for him to begin his quest to walk again. He soon discovers that he possesses the otherworldly power to heal people, but in an odd twist of fate, he is utterly unable to heal himself. Despite Father Joe's warnings, Dean angrily decides to use his newfound gift for fame and fortune. He joins a rock band led by charismatic front man The Stain (Orlando Bloom) with bassist Ariel (Juliette Lewis), and manager Nina Hogue (Laura Linney). But his newfound notoriety is unable to cure the hurt that encompasses his life. To find true healing, Dean must ultimately confront his worst demons and come to terms with his own humanity. — (C) Maya Releasing
Director Mark Ruffalo goes all out for a very ambitious movie that tries to tell a wide reaching story of healing and redemption, but ultimately loses the sight of what matter most.  It's a shame really, since the ideas are grandiose and thought provoking, but trying to do it all seems to be the films downfall.  It still doesn't take away from my overall enjoyment of the movie, mainly because the Christopher Thornton and Ruffalo make for some of the most engaging scenes of movie.  It's the personal struggle that I am most interested in, since the character has the sort of downfall that makes his tragedy a bit more personal.  A man who was successful and capable of anything is suddenly stripped of his abilities and left a tattered human being.  Thornton's acting is moving to say the least, able to convey this down trodden individual with a deep, perplexing psyche and his personal struggles flash across his face throughout the movie.  It's moving really, to see him go something to nothing and then trying desperately to get it all back after his healing discovery.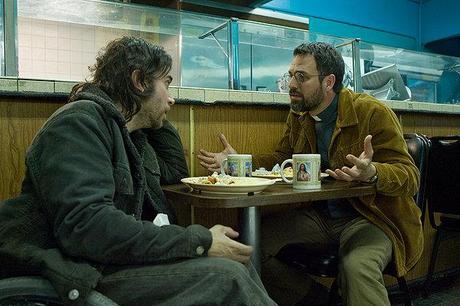 The movie kind of spins away from the personal side of the Delicious Dean story and goes further out, trying to grasp at additional storylines and characters that don't really feel right for the movie.  The inclusion of Bloom's character is out of place and not needed, neither is Laura Linney's performance.  I understand that they are there to propel the story about Dean's attempt to exploit his powers and gain a piece of himself back, but it feels a bit stilted and they are just there really.  The movie hinges on Thornton and he does an amazing job at being able to convey the struggle of personal demons and spirituality that Ruffalo wants to tell.
It's not a bad movie, nor is it really a great movie.  There are a lot of wonderful questions and themes raised in the film that get sidetracked by an ambitious Ruffalo.  It's understandable really, since it is his first time directing, but the focus needed to be on Dean's struggles and his inability to face his own reality and come to grips with what has happened and is current happening to him.  There are moments of clarity that actually dive deeper in the idea of finding the the calm amongst the demons we face.  The journey of our struggles leads us to a haven where we can see a path before us.  That is what the movie should have focused on instead of just hinting at it towards the end of the movie.  For what it's worth, Sympathy For Delicious is a well acted movie by Christopher Thornton and Ruffalo did an exemplary job as a first time Director.  Through the grimmy undertones and large, sometimes misguided, narrative, Sympathy For Delicious allows us to heal just a little bit through the use of spirituality and the hope that you can get through even the most difficult of times in your life.
*images via RottenTomatoes