Boy, I hope everyone were good little boys and girls cause that is a Santa you don't want to fuck with.  Actually I am just kidding as this Santa is just a really troubled young man who dispatched people in the most festive ways possible this holiday season.  But for today's post, why the hell not as tomorrows post is going to be Die Hard, AS IT IS EVERY CHRISTMAS!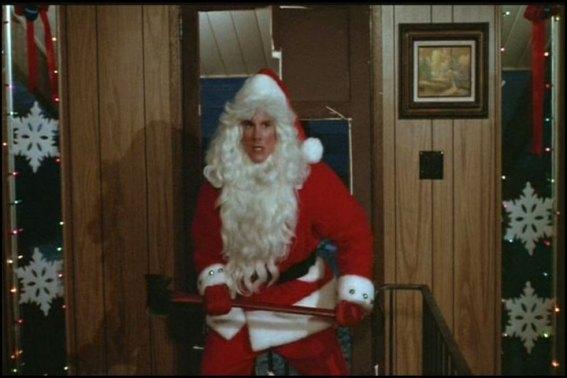 Offended parents and others protested this slasher film when it was released in 1984 because it portrays Billy (Robert Brian Wilson) as a toy-store Santa Claus who goes on a rampage and axes people to death while still in his Santa garb. When Billy was just a boy he saw someone dressed as Santa murder his parents at Christmastime. Billy's stint in an orphanage did nothing to unwarp his mind (he is tied to his bed for "misbehavior"), and when he starts playing Santa in the store — much against his wishes since he is deathly afraid of both Christmas and Santa Claus, he first only frightens the children who come to see him. Then his mind snaps, and he repeats the scene he saw as a child, on one person after another, in full gory color. ~ Eleanor Mannikka, Rovi
Man that is about as straight forward as a plot can get these days.  I mean kids witnesses parents being offed by a guy in a Santa suit, kid gets more messed up in orphanage and then dons a Santa suit to go a spree.  Personally I thought that it would have made more sense for the kid to start going after mall Santa's considering his fear in the movie but whatever.  Silent Night, Deadly Night is a cult fan's Christmas favorite for sure.  Who doesn't love a movie that was almost banned and caused so much backlash against the movie from parents and concerned groups cause it's not the usual festive holiday movie about a nice Santa who gives presents to all the good little boys and girls.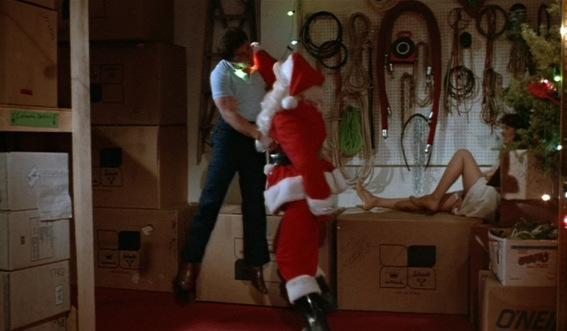 As far as a slasher, horror movie goes, this is pretty alright.  I guess I like the appeal of the rampaging Santa a lot, thus my enjoyment of the movie, but the kills are fairly creative and it all follows the usual horror movie tropes in terms of who gets the coal in their stocking this year.  I mean, teens having sex get axed, bullies get whats coming to them, and sexual frustration turns into violence.  The usual bag of reasons why Billy kills, so don't expect something deep and profound in terms of motive.
Its a by the numbers the plot that gained status because of the uproar it caused being released during the holiday season as if parents were totally going to take their children to a movie with "deadly" in the title.  I think they need to do some fucking parenting in my opinion.  I guess the publicity, as bad as it was, really helped keep this movie in the minds of horror fans and also being their holiday movie of choice.  For me, I like it for what it is, a typical slasher flick with some bite to it in terms of festive horror movie kills.
Happy Holidays!