Well folks, Kansas is yet again in the cross hairs of another massive snow storm that is going to barrel through our area here in the next few hours.  Just less than 4 days ago we suffered through a State of Emergenct snow storm from Blizzard Q or whatever it was called, which dumped about 12 inches of snow on our area.  Tonight and tomorrow, Snow Storm Rocky is going beat us like he did all Ivan Drago back in Rocky IV.  So I thought that this would be an awesome time to revisit one of the best movies around, with the best montage around, in the snowiest region of Russia.  We are expecting about 12 inches again this evening, so this should provide me with ample snow to get my training on.  ROCKY ROCKY ROCKY ROCKY!!!!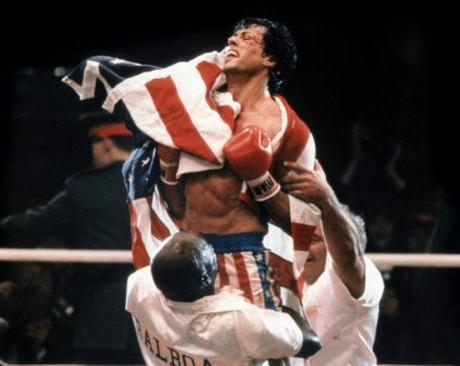 Stallone is back as Rocky Balboa, the heavyweight champion of the world and now good friend of his one-time nemesis, Apollo Creed (Carl Weathers). Creed is brutally slaughtered in the boxing ring during a lop-sided exhibition match against the superhuman Russian boxer Ivan Drago (Dolph Lundgren), an event that Rocky takes personally. Vowing revenge against Drago in the name of Creed and the United States, Rocky is invited to the Soviet Union for a matchup and hires Creed's former manager (Tony Burton) to get him in shape. While Drago trains using the latest technology, Rocky's ascetic preparations are a low-key affair of carrying logs up hills through knee-deep Russian snow. ~ Karl Williams, Rovi
This is easily the best in the Rocky series, leaps and bounds ahead of the atrocious Rocky V and to be honest, it was great to see Rocky take the Fist of Freedom to those Russian dogs.  Everything about this movie is just amped up to the max in terms of the stakes.  Apollo Creed was destroyed in an exhibition match, which an exhibition match in Russia is a fight to the death.  Someone should have really gotten a translator to clear this up, but I would have saw that as a declaration of war on the part of the Russians.  So having to come out and avenge his fallen hetero life mate, Rocky decides to show them that Communism doesn't produce shit and destroy Ivan Drago. So what better way to show American Brawn than by defeating Drago on Jesus' Birthday on Russian soil.  AMERICA!!!!!!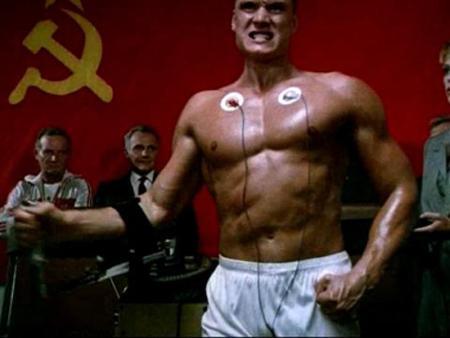 One of things I love about this movie, other than watching Stallone box for freedom, is the montages.  This movie managed to squeeze in two montages that pretty much solidify the movies greatness in the pantheon of movies.  Tracked with the latest pop-synth compilation from some artist, the montages are seriously one of the best aspects of the movie.  Here is montage number one:
Are you shitting me?!  That is one of the most deep and profound montages I have ever witnessed.  You would think if he had all that shit running through his head that he could cause a massive wreck when driving around.  I don't even like to fuck around with the radio in the car because it could cause too much turmoil in my mind, thus causing me to wreck.  Most people take a drive to clear their head of difficult decisions like "what bills to pay first" or "where am I going dump this body".  Stallone takes the time to reflect on the past three movies and figure out how to destroy Communism all in the process.  I guess life's little problems can all be solved with a sweet 80s soundtrack and a lot of jump cuts.
The final montage which they had to show, cause I mean how else can you explain Rocky defeating Dargo in his home country?  This is the montage to end all montages:
This montage was so long that they had to put two songs in the montage just so they didn't have dead air while Rocky was chopping wood and out running the KGB.  I love this montage just for the sheer absurdity of the acts that takes place between the two different training methods.  Apparently Russia decided to put all their defense funds into this NASA like training center for Ivan Drago complete with a track course with installed punching bags throughout the ring.  That had to cost a lot of money since that is not regulation.  Then you get to see the typical computers with numerous lights since they decided to base their technology off of old Star Trek shows.  Those devious bastards even inject Drago with steroids, possibly made from chemicals at the Chernobyl site.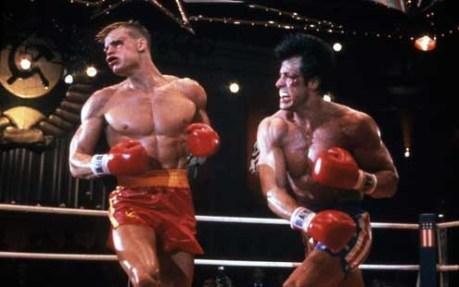 Now Rocky's training consist of him being transported back to the 1800′s where the only way to work out was doing manual labor.  I half expected him to just start chewing tree trunks in order to bring it down.  But this shows the key point between American and Russian training, in that America doesn't need it's industrial and technological might to beat some ass.  All you need are a group of trainers, one black guy to nod at you in approval when you lifted those rocks well and then finish your training with run up a mountain.  Let me say that again, HE FINISHES HIS TRAINING BY RUNNING UP A MOUNTAIN.  The dudes from The Lord of the Rings couldn't even scale a mountain and Rocky did that while evading the damn KGB agents that are ineffective in cold weather.
The final is one for the ages and the only appropriate gift one can give Jesus on his special day.  I am talking about ending the Cold War.  What did you get your wife for Christmas?  A stupid necklace, hahahaha.  Rocky have Adrian and America the end of the cold war.  They might as well have just started placing "Made in America" stickers all over the arena since we owned that shit.  Sales of American flags went up by 1000% in Russia and not because they were going to burn them.
This is one of the ultimate Christmas movies that you could ever watch.  I mean it has it all in terms of montages, boxing and Christmas spirit.