After seeing this movie, it's not hard to see why Jean Dujardin won for his role in The Artist, which isn't to say that the roles are similar here.  It's rather the general charisma that this man has on screen for a deadpan delivery of jokes and lines to his expressive nature in front of the camera.  He is an actor that is versatile and unique, easily one of my favorite actors given his body of work.  OSS 117 is the sort of spoof movie that is a bit more clever in the spy parody genre.  Where Austin Powers is more of a hokey, gag filled movie, OSS 117 is the smart and sophisticated spoof movie that isn't on the nose and relies deadpan delivery with a smirk.  I guess since it is a French film, we shouldn't expect less.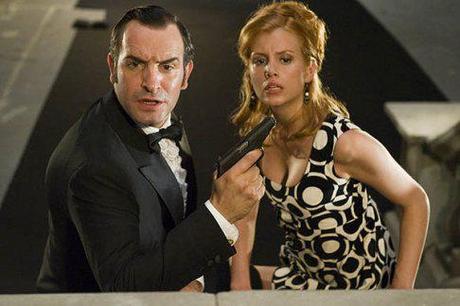 As adapted from Jean Bruce's endless series of novels, the French series of OSS 117 adventure comedies showcase the globetrotting exploits of Hubert Bonisseur de la Bath (aka OSS 117), a Derek Flint-like super-spy. This outing finds OSS 117 shuttled off to Rio de Janeiro, where his assignment involves retrieving microfilm that lists French Nazi collaborators during World War II. He then teams up with the seductive lieutenant Dolores (Louise Monot) to track down a gang of escaped Nazis. ~ Nathan Southern, Rovi
The perfect counter to the Bond series, OSS 117 is the tongue-in-cheek spy spoof that features the bungling, but often charming, Agent OSS 117.  Jean Dujardin is absolutely wonderful in this role, especially with this being the second film of the series and he has an opportunity to fully embrace his snarky agent persona.  It's kind of weird liking this agent OSS 117 as throughout the movie he is sexist, has knee-jerk prejudices, racist, and this weird colonialist for some reason.  But all those things just kind of blend together as a caricature of the 1960s glam spy and it works so well with their jokes and comedic timing that you forget all about it.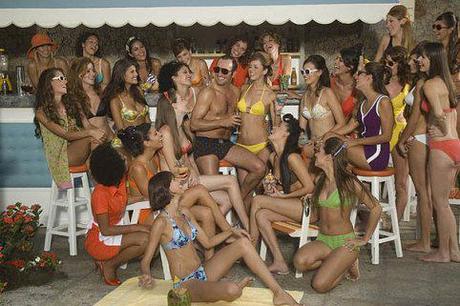 Much like the first film of the series, Lost in Rio piles on the inappropriate jokes with precise timing, although it can get a bit overbearing when the story of hunting for Nazis becomes the joke itself.  I wasn't terribly excited that the story ends up being the joke when the first film of the series had a good narrative to it that allowed for some timely jokes and sharp wit from the cast.  This time, it sags a bit, but it isn't a huge problem.  The charm and smarmy nature of the agents involved make up for that lack of story drive and Jean Dujardin couldn't be funnier when starts openly asking for nazi clubs or a list of Nazi residents.
The campy nature of the film might be discarded for being a bit too on the nose with it's exaggerated characters and Bond-esque villains and heroes.  Dujardin deftly handles carrying the film with his gleeful smile and Frenchman charm that you end up having hearty laugh and reveling in the 60s throwback spy film.  For me, I love the 60s era techniques that the film overuses such as split screen usage which was a big film techniques that everyone used.  It doesn't feel done to death in this movie and in fact the over use of it adds to that cheeky 60s vibe that they strive for.  Despite some issues with the story dragging, it's the irreverent charm of Dujardin that caps off the humorous spoof comedy that is played straight and tight.  I will eventually do a post on the first of the series, but this is far more accessible given the popularity of Jean Dujardin after his win in The Artist.
*images via RottenTomatoes