I guess I am on a hybrid of horror and science fiction film kick as of late, but more so because the local Alamo is serving up some late night cult movie fixes.  I am certainly not complaining since I love consuming and watching any and everything out there.  So after watching Night of the Creeps, I went out in search of some movies that were similar in tone and style.  Sure enough, my search yielded this lovely treasure the other night with Night of the Comet, a science fiction horror movie that delivers some cheeky humor to the bleak, end of the world, zombie infected, kill or be killed film.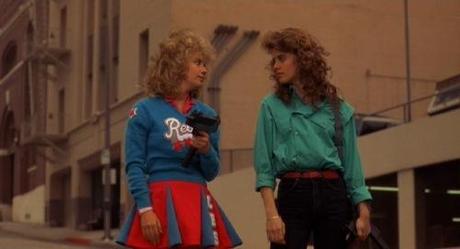 In this satirical sci-fi comedy, Samantha (Kelli Maroney) and Regina (Catherine Mary Stewart) are two sisters whose father was a hard-bitten Green Beret, but who've grown into typical Valley Girls. They end up spending the night in a steel-lined room just as a comet passes close to the earth, vaporizing the people in its wake. When Samantha and Regina emerge, they discover that they have the city to themselves, and they begin the shopping spree to end all shopping sprees. En route to the mall, they discover Hector (Robert Beltran), the only survivor they've found so far, and they argue over who gets the last boyfriend on Earth. However, the mall holds an unpleasant surprise — a small army of zombified stockboys who the gals must battle using an arsenal they shoplifted along the way (while lamenting that "Daddy would have gotten us Uzis!" after a MAC-10 fails to fire). Meanwhile, a cadre of soldiers from a special military experiment have come out of hiding, but it seems that they need fresh blood to survive, and Samantha and Regina look like just the refreshment they need. Cult figure Mary Woronov also appears in a supporting role as a scientist. ~ Mark Deming, Rovi
I would say think Valley Girl mixed with Night of the Living Dead and sprinkle on some The Omega Man.  Yeah, that about sums up the feeling of this movie and to be honest, I enjoyed the hell out of it.  It's a mixed bag of genres, movies, themes, and that overall feeling that everything in the movie is eerily familiar to the viewer.  I won't say that this is a knock against the movie as it finds a way to remain plucky and fun to watch as the two female leads fight over the last man on Earth and fend off zombie stock boys and blood thirsty military soldiers.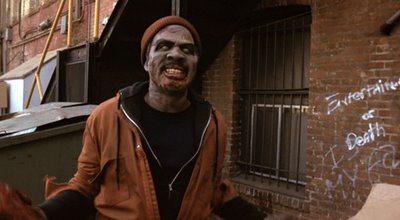 Night of the Comet follows and utilizes a lot of different themes from other movies, making it seem familiar but the fun aspect of the movie overtakes any issues with that.  Hey, it might not be completely original, but damn it is a fun movie to watch.  The two female leads take us on a little journey through the mentality of, what I assume girls were like in the 80s, teens with an entire city all to themselves.  Shopping Spree's galore and fighting over the last boyfriend on Earth seem like things ladies would do in the 80s or an apocalyptic wasteland.  It's a quirky movie that plays more like a comedy than a horror movie where the leads are blowing away zombies and defending themselves from people after their young blood.  They do manage to find time to look good and ready themselves for a showdown, while still trying to get the guy in the end.  It's all fun and games, which is something that I really enjoy about this movie.
Night of the Comet might be mislabeled on my part as a science fiction, horror movie.  In turn it really is a parody and satire over the low-budget schlock of the 60s and 70s, while commenting on the teen mentality of the 80s and still having a sharp feel to the movie.  It might comes off as cheesy and it is, but you got love these low budget genre movies that just go for it and combine a numerous amount of influential elements and try to make a satirical point on them.  I wouldn't say it succeeds at that, but the end result is just a goofy movie with some unconventional surprises.