So enough with the killer robots, somber war films and general jackassery that goes on in my blog as today I am going with a mellow comedy.  My Blue Heaven is another Steve Martin film that I am a big fan of, mainly because that man is just so damn likeable.  Now yeah his most recent stuff isn't the thing of legend, I mean who really consider "Cheaper by the Dozen: to be good?  For me, give me 80′s and early 90′s Martin any day of the week and I will be a happy man.  This film is a bit decisive, mainly cause people thought this was going be a laugh a minute comedy from Martin doing what he does best.  For me, I enjoy this film cause it playful, light and honestly a top Steve Martin film in my eyes.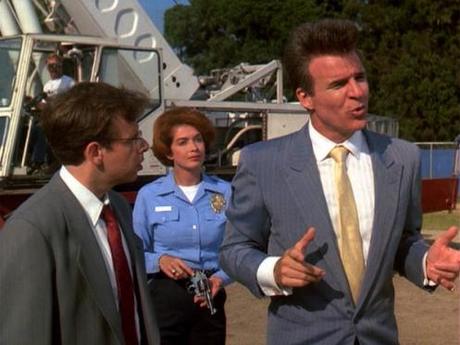 Herbert Ross directed this Nora Ephron-scripted buddy comedy starring Steve Martin, Rick Moranis, and Joan Cusack. Steve Martin plays Vinnie Antonelli, a street smart mobster who agrees to turn state's evidence and is forced to move to Fryburg, California as part of the witness relocation program. Rick Moranis plays the nebbish FBI agent Barney Coopersmith, who is assigned to help Vinnie adjust to small town life. Instead, Vinnie helps Barney come out of his shell, much to the consternation of divorced mother and relentless district attorney Hannah Stubbs (Joan Cusack). ~ Paul Brenner, Rovi
Playing a subdued character doesn't hurt the comedic effect that Martin brings to any film.  He manages to play a mobster, whom we immediately should not like, to the point he becomes your best friend, the underdog of the film.  Sure he is a bit scummy at first, I mean trying to pull the wool over Rick Moranis' character, but hey, it's Vincent Antonelli.  He gallivants in a cocksure way, but does so with a rolling parade of charm and wit.  It's kind of a great role if you ask me.  I enjoyed watching Martin play up the silly aspect of his mobster persona into the reformed good guy that ends being a hero to everyone by the end of the film.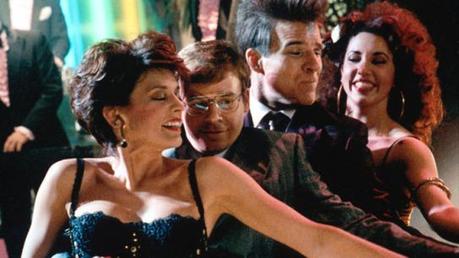 The story by Nora Ephron, who did a cadre of romantic comedy films in the 90′s, has a nice playful tone to proceedings. Her characters are a bit nebbish and clowny, mainly Moranis and Cusacks' characters.  They are the strongest parts of the film and it would have been better if the prime parts of the film weren't all hogged up by Martin, as it would have been nice to see a bit more interaction that was comedic and natural.  Instead, you get a stilted with the interaction and don't really come to embrace their characters.  Even the love interest plot line between Moranis and Cusack is a bit off and unbelievable, which is weird since Nora Ephron's specialty is romantic comedy.  I don't really get anything by confrontation out of their characters and no chemistry.  Still, it's Martin that helps carry us through the rough parts and makes the film better.
Overall though, this is about as lighthearted a comedy as it can get.  The jokes aren't laugh riot material, but more subtle and comes at the right intervals to keep everything fun and enjoyable.  Martin is at his best when he gets to ham up the Italian mobster and you fall right into step with his action and personality.  It's hard not to enjoy a movie like this with the cast that is available.  The story leaves a bit more to be desired, but I can overlook that as the tone and energy of the film keeps you uplifted.  For me, it's a memorable movie, even more so that I am writing about it, and Steve Martin is a great comedian/actor who can bring some personality to rather flat characters.