Let's be honest.  What other possible could I have posted for today that would be more appropriate for Valentine's Day than this 1981 slasher classic?  I will await your response, which will then immediately be destroyed by the sheer magnitude of this cult classic horror movie.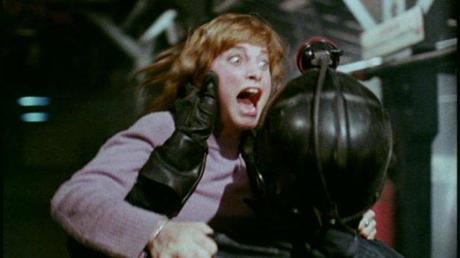 It's Valentine's Day in the tiny mining town of Valentine's Bluff, Nova Scotia, and for the first time in two decades the residents are planning a holiday dance. The long hiatus is due to the tragic events of 20 years earlier, when a pair of mining supervisors were too busy enjoying themselves at the dance to prevent an accident from killing a large contingent of their workers. The lone survivor, Harry Warden, took his revenge the next year by removing the hearts of his bosses and promising similar carnage if ever another Valentine's dance were held. Unfortunately, the town's horny early-'80s youngsters aren't big on tradition, especially since Warden is locked up in an insane asylum. They go ahead with plans to celebrate the holiday — even after a heart in a candy box shows up and beloved biddy Mabel (Patricia Hamilton) ends up enduring an involuntary tumble dry. Soon, bodies begin piling up, setting the stage for a climactic trawl through the mines and surprise revelations about the fate of Harry Warden. ~ Brian J. Dillard, Rovi
Nothing like a counter-holiday flick for Valentine's Day than picking a horror film that takes place on Valentine's Day.  My Bloody Valentine is a cult classic in every sense of the word.  Gorey, violent, plenty of gruesome kills and following in the footsteps of other slasher films from the late 70s and beginning of the 80s, this is epitome of a holiday classic in my eyes.  These sort of slasher films always tickle my fancy in that it is a perfect time capsule of the era, when kids were just horned up sex machines looking for mischief and poon, while the killer is some ridiculously superhuman of strength and tenacity.  Plus the gore folks, oh the gore.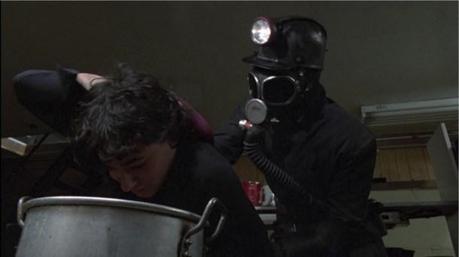 A lot of the setup for the movie is interesting, in that the gruesome murders were the stuff of lore, a town history that won't fade away.  A tragic mining accident, a vengeful worker vowing to kill again if there is another Valentine's day celebration, it's like the Footloose of horror movies.  The dialog is funny, unintentionally of course, while the acting is about what you would expect from a lower budget horror movie, but that means dick when it comes to getting straight to the slasher parts of the movie.  The kills are the stuff of legends in terms of the creative means in which to kill gullible teens.  From getting killed with hotdog water to taking a tumble in a dryer, there is no shortage of gratifying kills that also include the taking of hearts like the killer was Mola Ram from Temple of Doom.
I was excited to see this movie getting some from around the KC area with one of the theaters showing this as their anti-Valentine's movie.  I got to applaud that since I would go to that, but I have plans.  What, I have a social life outside of this.  It was also cool seeing the fine folks from Horror Remix adding this movie to the remix lineup in their latest mashup entitled Love.  It reminded me how fucking awesome this movie is while also harkening back to the slasher movies of the 70s and 80s.  They don't make these like they used to, except for that remake they did in 2009 which was not bad.
My Bloody Valentine is certainly that movie you want to share with someone you love.
Happy Valentine's or Anti-Valentine's Day folks!