A shit man, coming back for seconds.  This time I am talking about Maniac Cop 2, which in my opinion, is the best of the series.  Yeah this is a series of maniac cop movies, but who gives a shit.  The concept of a psycho in a police uniform beating all kinds of ass is just too awesome pass up, especially when the action in the movie is by far and away better than the original.  If you don't believe, well let me just throw out this little note; remember the police station massacre in Terminator?  Well this movie has probably the greatest police station action scene like ever.  Even better than Assault on Prescient 13, which was a movie that took place inside a police station.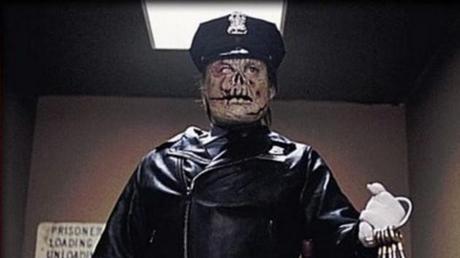 This sequel to Maniac Cop pits Matt Cordell (Robert Z'dar), the crazed, murderous "Maniac Cop" of the first film (now horribly disfigured after a particularly brutal stay in prison), and Turkel (Leo Rossi), a serial killer who likes to murder strippers, against a frenzied NYPD detective, Sean McKinney (Robert Davi), who is just one step ahead of a nervous breakdown. His nerves don't get much relief when officers Jack Forrest (Bruce Campbell) and Teresa Mallory (Laurene Landon) insist that Cordell is still alive — not only alive, but unkillable. Then Jack is murdered and the silent Maniac Cop breaks Turkel out of jail. With a group of rancid prisoners, they take police department psychologist Susan Riley (Claudia Christian) hostage. When the prisoners attempt a massive prison break, McKinney musters his forces to hunt down Cordell and Turkel and save Susan. ~ Paul Brenner, Rovi
As with any sequel, the formula for the first is still there, but amplified as the stakes must be higher.  This movie certainly does amp up the total craziness of the previous maniac cop movie, while still delivering a solid entry to the series.  It is still nice to see that Robert Z'Dar is still getting that consistent work as the maniacal cop killer and he is literally unstoppable in this movie.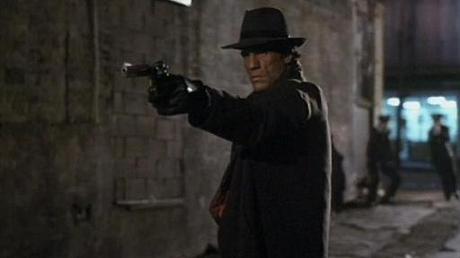 The movies centerpieces in on the fact that Cordell is now unkillable for some reason.  I guess being brutally beaten in prison and disfigured grants you the ability to not let a little thing like bullets, windows, chainsaws or other humans from stopping you on your quest to break out your stripper killing buddy.  See what they did there though, they doubled the murderous fun with another serial killer.  Bruce Campbell shows back up to deliver his usual acting prowess, while Robert Davi brings up the pathos of acting in this slasher sequel.
I really feel like reviewing these movies are just a little too easy and short.  There isn't something to be mined from the series as it is just a means to have wild kills and some more mayhem on screen.  I am not complaining since I get a kick out of the series and the total degradation of the main villain into an almost Jason like killer is still fun to watch and campy as hell.  The action is fun and frantic, the kills are bloodier than ever and the villain is just a beast of a human.  A total booze and watch film and that is a great thing to be.