This is one of my favorite documentaries I have seen this year.  As most of you know, I collect Mondo posters, actually just posters in general.  They are the art that adorns my walls, the things I covet and the stuff I love to show and acquire.  For me there is nothing better than scoring a limited edition print of a favorite movie of mine or the latest creation from some of the best movie and concert poster artists out there.  Lo and behold my excitement when this movie came across Netflix instant for my viewing pleasure, a movie that premiered at SXSW and finally have an opportunity to see the evolution of my poster obsession.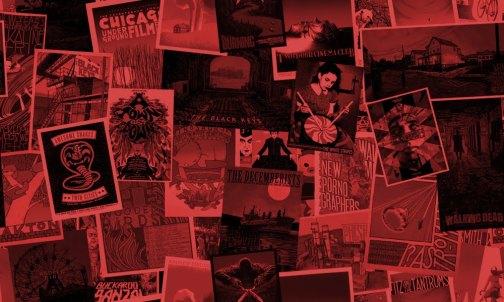 In the gig poster community, artists such as Daniel Danger and Jay Ryan prove that creating this artwork is a way of life, more than just a career. These artists are at the forefront of an expansion of the gig poster genre. MONDO's reinvigoration of "the film poster as an art form" and Gallery 1988′s theme based exhibits are only two ways in which the artwork is reaching a greater public. In a community with strong roots, dating back to the 1960s, this expansion is controversial – refreshing to some, sacrilegious to others.
This is a documentary for all those people out there that have bought a concert poster because they loved the art, for those that bought the poster because of the band or the artist or the look.  This is a documentary for those looked at a poster and thought to themselves, "this looks beautiful and needs to hang on my wall".  Just Like Being There explores the culture behind the gig poster, the movie poster and the evolution of that finely printed art piece that you picked up on a lark at concert of your favorite band.  The exploration of the gig poster is fascinating, one that goes into the idea behind the posters and the artists who make captivating images for bands or movies.

Over my years of collecting and buying specialty posters, it was a treat to see some of the artists go on about the process and art that goes into creating this unique, one of a kind posters.  The folk art of our time, these posters take on a life of their own, each unique to the artists interpretation and maintaining their visual flair.  Seeing artists like Kevin Tong and Daniel Danger on screen discussing the craft made me happy since I own several of their pieces from the Mondo company.  There is something so amazing seeing these pieces of art in person, looking at the color and technique, framing them for display and calling it your own.
Just Like Being There is a poster lovers film, exploring the culture of the gig posters and movies poster which it evolved in to.  Watching companies like Mondo and Gallery 1988 take the art of the poster design and base galleries around them to showcase the vast array of artists, along with their takes on pop culture or theme posters.  It's informative, but also pure poster porn for people like myself that collect and want more and more from these artists.  It certainly is worth a look if you ever wanted to know more about the collecting culture of posters and the artists that larger than life in this culture.