I have not had the pleasure of reviewing a kung fu, martial arts movie in some time and today folks I bring you utter fucking gold.  Duel to the Death is by far an away, an over the top slash fest of amazing proportions in that there is nothing but utter madness taking place in this movie.  Let me give a quick rundown on the highlights of this movie:  You got two master swordsmen battling one another to see who is the best, ninjas out the ass, kamikaze ninjas, ninjas that turn into voltron, ninjas who take the shape of one large ninja, ninjas who who fucking rain down an ungodly amount of ninja stars and oh yeah, did I mean one of the best sword battles ever.  Ninja Ninja Ninja!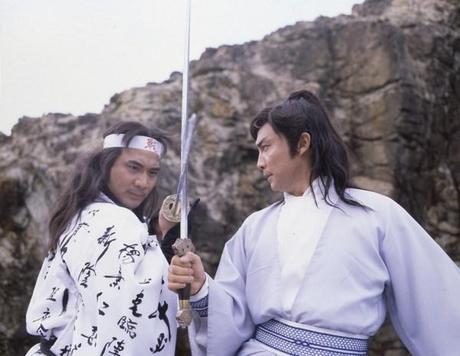 The plot concerns a martial arts contest between China and Japan which was held once every ten years during the Ming dynasty. Set in the days leading up to one such contest, the Chinese fighter Bo Ching-wen (Damian Lau) and a Japanese contestant, Lord Hashimoto (Norman Tsui), discover that their nations have conspired to fix the contest. It seems that a local martial arts master who believes that his daughter should be China's official contestant has conspired with a villain posing as a monk to kidnap the top fighters in the competition. The fake monk commands a team of skilled ninjas who commit the abductions — in one memorable scene swooping down on their victim on silent kites — and it is up to Bo and Hashimoto to set matters right. ~ Robert Firsching, Rovi
The plot to this movie is just merely a backdrop for some of the most exciting fight scenes and special effects in a martial arts, swordplay movie in a long time.  In Duel to the Death, you see elements of wuxia and wire-fu tactics that are most associated with kung fu movies in a lot of peoples eye.  Sure it looks gimmicky that the combatants can seemingly fly around the landscape, slicing and dicing their way through scores of enemies, but damn if it isn't fucking exciting.  The movie is fast paced, moving the audience through each action set piece like they don't give a fuck and I thank them for that.  There is nothing but constant action and outlandish fight scenes that are just too good to be true.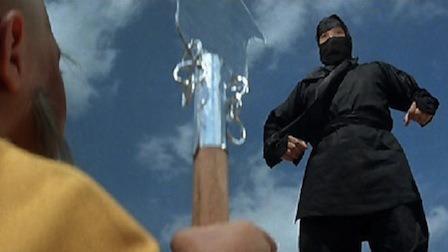 Duel to the Death should have just been titled Ninjapalooza, cause if anything, there is a plethora of ninja antics in this movie.  Sure the focus is on two different, accomplished swordsmen who are vying to see who is truly the greatest at their skill, but the ninjas certainly take over the show here.  Their antics are the stuff of mythological proportions, either suicide bombing monks with bamboo bombs, combining together to form one gigantic ninja or even removing their clothing to distract celibate monks, it's nothing pure insanity that makes this movie exciting to watch.  Yeah they are no match for the skilled swordplay of the respective fighters, but it certainly doesn't hurt to see the head scratching fight scenes and the gory goodness that ensues.
The culmination of all this shit in the movie leads us to the finale of the movie.  The climactic battle between the two swordsmen that is one of the best sword battles out there.  I would be hard pressed to find one that is even remotely close to the level of absurdity that happens in the battle, but it is intense and rewarding to see a one on one duel in this movie.  The whole time we are seeing giant battles taking place where each swordsmen is capable of besting them all, as if there is no equal amongst the group.  Then you finally get them together to see which is truly superior.  It's fantastic to see this battle with wild sword swings, blood letting, acrobatic aerial moves and the final outcome of it all.  The build up is truly worth the time it takes to get to the end and Duel to the Death is a sadly, underseen classic.  Yep, I said classic folks.  So if you are a fan of martial arts, kung fu, swordplay movies, you got to see this.