Some people will probably have more of an affinity for The Adventure's In Babysitting, but I much prefer the 1991 classic, yes classic, Don't Tell Mom The Babysitter's Dead in terms of teens playing out this fantasy of having no supervision and getting into all sorts of shit that only 90s kids could do.  Yes, the entire premise of the movie was that the evil old would keel over and die so that the kids could be free to stay out late, the teenagers could fornicate, and whatever.  Honestly I just remember that the end of the movie was some sort of fashion show and then the mom showed up.  Also Christina Applegate was looking hella fine.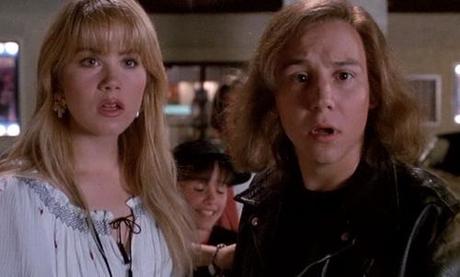 The premise is all in the title — when the mother (Concetta Tomei) of a sniveling group of surly kids goes on a much-deserved summer vacation, she leaves her kids under the charge of an elderly distaff granny (Eda Reiss Merin). When granny ups and dies, the kids load her dead body in a trunk and deposit the package on the steps of the local funeral home. The kids are ecstatic thinking that with the big wad of cash Mom has left, they can have a summer of consumer madness. But when they find out that the money has been buried with the baby-sitter, the kids have to fend for themselves to make ends meet. Dream teen Sue Ellen (Christina Applegate) tries working at a fast food restaurant but she can't stand the grease. So, she puts together a false resume and, posing as a twenty-eight-year old, she applies for a job as a receptionist at a garment manufacturing company. The company vice president, Rose (Joanna Cassidy), is so impressed by her resume that she hires her on the spot as her executive assistant. Her deception looks to be working out great — Sue Ellen manages to hold off the office lady killer Gus (John Getz), avoids exposure by the embittered receptionist, borrows money from the company's petty cash box for household incidentals, and continues her relationship with restaurant employee Bryan (Josh Charles). But suddenly, the clothing firm is set to go under, and Sue Ellen must use her teen fashion sense to save the company and her job . . . and she has to get the rest of the brood involved. ~ Paul Brenner, Rovi
Shit, I guess there was a bit more to the movie than just waiting for death to come for that mean old lady and also having the time of their lives in a house without supervision.  Listen, this isn't a super great movie.  In fact, it's full of cliches like the kids just destroying the house without supervision, the supposed older brother not giving a fuck, the eldest sister having to grow up beyond her years to keep everything together and being the parental figure in their lives when their actual mom decided she needed to get away for a while from a house full of kids.  All that said, I still liked the concept of being left on your own to basically have a summer vacation with no rules.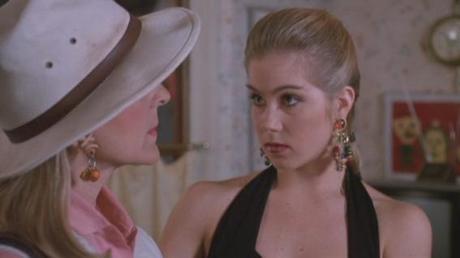 Applegate is the best thing about this movie.  She is witty, charming and frankly the only thing that keeps this movie going.  Don't get me wrong, I love to watch escapist fantasies of teens run amok doing whatever they want, but there is some purpose or lesson to be had in order to ground my youthful mind in a sense of reality.  I still would have liked to live in a place with no rules, but then again I would have liked Applegate to be my babysitter.  Hey!  I was like 10 when I saw this movie, so don't judge.
This is really a relic of the 90s, cause once Home Alone opened the floodgates of the young kid staying at home without supervision, genre came about, there were a slew of these sort of movies.  I guess this stands out more because of the morbid premise that in order to break the shackles of oppression from not having a summer, you got to apparently hope that the babysitter kicks the bucket.  Then again I liked my babysitters when I was young so I didn't wish that upon anyone.