I am sure everyone is probably saying to themselves that I somehow must have meant to talk about the 2006 Casino Royale film with the Adonis actor Daniel Craig.  While I agree that Craig is a gorgeous, chiseled man and he both revitalized the Bond series with his steel blue eyes and gritty persona,, he did also destroy it with Quantum of Solace, which is a terrible fucking name if I ever heard one.  So with those factors in mind, I decided to pick the original Casino Royale from 1967 which also is a funny spoof on the Bond series with a remarkable cast of comedic actors and even Orson Fucking Welles as the villain.  Yeah, this is gonna be awesome.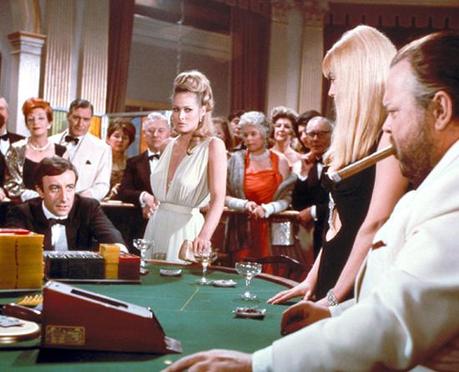 Retired after years of international espionage, Agent 007 is lured back into action to battle the evil spy organization SMERSH in this notoriously incoherent parody of the James Bond films. David Niven portrays the aging Bond, who atypically rejects the advances of a variety of women, and agrees to battle SMERSH's hold on the lavish Casino Royale only after organization head M is murdered. Also mixed up in the affair are several other secret agents, all named James Bond, played by everyone from Peter Sellers and Woody Allen to a chimpanzee. ~ Judd Blaise, Rovi
I got to admit that I wish I was born in the 60s.  This nothing but a bonanza of gimmicks, sight gags, partying, and general excitement all rolled into one movie.  Jumping all over the place and crowding the films with jam packed scenes of crowds, music and other stuff that seemed prevalent during the 60s, Casino Royale is a fun movie that doesn't take itself seriously but delivers a fun atmosphere to sit back and enjoy.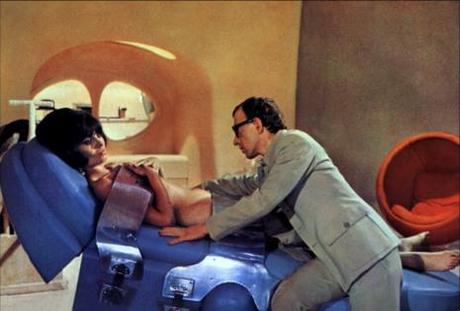 What makes this great is the cast of actors.  From Woody Allen, Peter Sellers, Ursula Andress and David Niven all playing the titular character James Bond, this all piles on the ridiculous factor of trying to outsmart the villain of the film by having everyone be the hero.  The story is just there, meant a way to at least set up the film before everything is just thrown out the window in favor of a non sequitur series  of images and run on scenes.  In all the mess of this movie has to offer, there is a nice little beauty in the chaotic film of one liners and sight gags.  You got to at least appreciate that they just went for it in this film, seemingly developing conflict out of nothing and opposing themes in the movie.  It's a spoof in the sense that it spoofs the idea of what Bond is, making a mockery of the sly, collected spy series with random moments punctuated by incoherent scenes of disorder.
I love this movie for what it is, a cult classic.  Sure it was lauded by critics and bombed at the box office, but that is the sort of thing that will find it's audience years down the line.  Some might compare it to Austin Powers, but then again Austin Powers did have Peter Sellers and Orson Welles (RIP), so Casino Royale has a leg up on them.  It's a movie that is arcane to only those who love absurd 60s films and if they do enjoy the vibrant, wacky times of the 60s, you will love the hell out of this movie.  If not love, then at least appreciate the manic acting and cluttered party atmosphere of the spoofing spy film.