Have you heard about Golden Shoes? It's a new feel good movie released on DVD and On Demand on October 6 packed full of talent as well as heart! This Dove-family-approved movie is the story of Christian, an eight year old boy who lives and breathes soccer. He wants to be like the professional soccer player like his idol, Christiano Ronaldo. Christian believes in his heart and soul, that he can be the best soccer player in the USA and play for the National Youth team. But first, he must overcome the impossible.
Christian's dad is on active duty in Afghanistan and they haven't heard from him in months. Christian's mom is doing the best she can, working long hours and struggling to take her son to soccer practice. She tells Christian he can be whatever he wants to be.  For some reason their neighbor, Frank, has a chip on his shoulder and is blackmailing the coach to put his twin boys on the playing field more than Christian. As a result, Christian's athletic abilities are suffering. Instead of catching a break, Christian's life gets more difficult when his mother is bed-ridden in the hospital as a result of a car accident, Frank is the guy in charge of Christian and he is forced to live in Frank's basement until his mother recuperates.
He doesn't want to spend any of his own money on this boy he doesn't like. The neighbor takes Christian to get new shoes for soccer, asking that Christian be provided with old, dirty, free shoes. when Christian gets his muddy old soccer shoes, he can suddenly play like a pro and leads his team to victory after victory! Christian becomes an inspiration to his teammates as well and even talks one of his teammates out of fighting.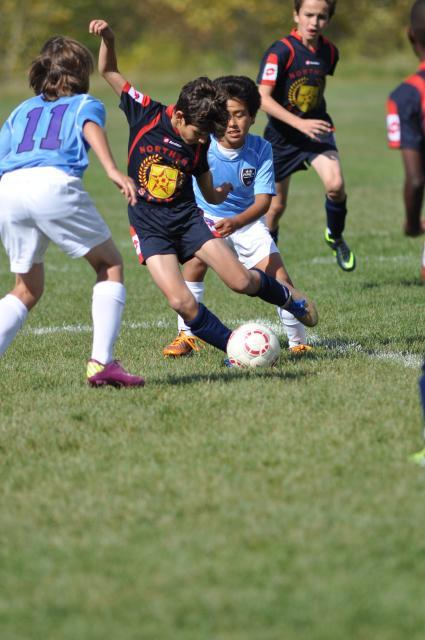 This movie is compared similarly to the likes of Rudy meets Bend It Like Beckham. It is full of emotion and twists, and will get the audience all rooting for the child star who may just inspire us all. The Golden Shoes soccer movie released on October 6, 2015 and features an all-star cast including Eric Roberts, John Rhys-Davies, David DeLuise, Vivica A. Fox, Dina Meyer, Christian Koza, Joshua Morrow, Montel Williams, and Aedin Mincks!
ABOUT ANCHOR BAY ENTERTAINMENT: Anchor Bay Entertainment is a leading independent home entertainment company celebrating its 20th anniversary in 2015. Anchor Bay acquires and releases a wide array of filmed entertainment in the theatrical and home entertainment markets, including STARZ Original series, children's entertainment, fitness (Anchor Bay Fitness), sports and specialty films on Blu-ray™ and DVD formats. The company has long-term distribution agreements in place for select programming with The Weinstein Company, AMC Networks and RADiUS, among others. Headquartered in Beverly Hills, CA, Anchor Bay Entertainment is a full service distributor in the North American market. Anchor Bay Entertainment is a Starz (NASDAQ: STRZA, STRZB) business, www.starz.com.
I was provided with a DVD of this movie from MPRM Communications without cost in exchange for this, my honest review and unbiased opinion.
~ ~ ~ ~ ~ ~ ~ ~ ~ ~ ~ ~ ~ ~ ~ ~ ~ ~

It would be great if you would stay connected with me!! You can follow me on Twitter @DebiL1611, like me on Facebook at 2014 and Beyond, circle me on Google+, follow me on Tumblr, Instagram and Bloglovin', subscribe on YouTube, or connect with me on LinkedIn and Pinterest.

Please make sure to visit my homepage and subscribe to my blog for more great posts on running, fitness and lifestyle topics as well as food, product, music and book reviews, and more!