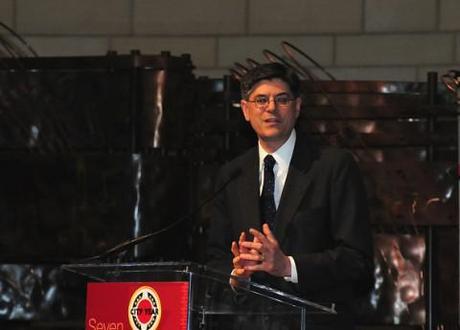 Jack Lew, May 5 2011. Photo credit: cityyear

White House Chief of Staff Bill Daley has unexpectedly stepped down. President Barack Obama has named Office of Management and Budget Director Jack Lew, a steady Washington veteran, as his new chief of staff. The switch has been mostly welcomed by observers who sensed that Daley never really entirely fitted in in the West Wing.
Daley, a former vice-chairman at bank JP Morgan Chase, lasted just a year in the job. In that time, he failed to strike a deal on the federal debt and deficit with the Republican speaker of the House, John A. Boehner. Daley joined the White House staff in January 2011 to succeed Rahm Emanuel, who stepped aside as chief of staff to become mayor of Chicago. Obama revealed he had initially tried to persuade Daley to stay on. "No-one in my administration has had to make more important decisions more quickly than Bill, and that's why I think this decision is difficult for me", Obama said of his fellow Chicagoan.
The White House chief of staff role controls access to the president, handling crises and acting as both enforcer and liaison to a sometimes hostile Congress, reminded the BBC.
Analysts polled by the news agencies said the switch should benefit Obama and is well timed. "This is a good time for a shake-up", Julian Zelizer, a Princeton University history professor, told Reuters news agency. "Since public attention is focused on the GOP, thereby diminishing the chances this will become a story about unrest in the White House."
Daley's difficulties. Christi Parsons and Peter Nicholas at Philly.com spelled out why it never really worked out for Daley in Washington: "If the timing of Daley's departure was unexpected, the decision was not. From the start of his tenure, Daley struggled to find a comfort zone in an insular White House in which Obama relies heavily on advisers held over from the 2008 campaign and his Illinois Senate office. Daley had little in the way of a personal relationship with Obama. And though he was commerce secretary in the Clinton administration, he lamented that the culture in Washington had changed greatly since the 1990s – more polarized, partisan, and gridlocked."
Lew: Fair and tough. Writing at The Washington Post's Federal Eye blog, Ed O'Keefe adjudged Lew to be a canny hire by Obama: "As you'll hear in the coming days, Lew is regarded across Washington and across the political spectrum — and also in the halls of federal agencies — as being a fair broker and tough budget negotiator. Part of his appeal, observers say, is that he maintains a generally level-headed attitude even in the midst of difficult political negotiations."
"Jack has had one of the other most difficult jobs in Washington", Obama said Monday in making the announcement, adding later that, "Jack's economic advice has been invaluable and he has my complete trust, both because of his mastery of the numbers, but because of the values behind those numbers."
Lew will need to penetrate Obama's inner circle. Mark Landler of The New York Times described Lew as "a mild-mannered and steady technocrat with long experience in the White House and on Capitol Hill", and noted that having acted as deputy to Secretary of State Hillary Rodham Clinton, he'll be able to deal well with foreign policy issues. "A major question, though, is whether Mr. Lew will be any more successful than Mr. Daley in establishing himself in the president's inner circle", said Landler. "It was not yet clear, for example, whether Mr. Lew would share some of his duties with Pete Rouse, a low-key former Congressional aide who is close to the president and was assigned some of Mr. Daley's responsibilities after the failed budget talks."
Bankers in the White House. "Citigroup Replaces JP Morgan as White House Chief of Staff", was how snarky website Gawker interpreted the news. It flagged up the fact that all of Emanuel, Daley, Lew and Peter Orszag (Lew's predecessor as Office of Management and Budget director) have worked in investment banking.