Like many parents, my kiddos birthday parties are a big deal. I enjoy the planning and putting it together and they enjoy the party, so it's a win-win, except for the paying part. However, for my daughter's first birthday, I really wanted to make it all about family, especially since ours doesn't live so close. With an August birthday close to Labor Day, we chose the lake as a perfect setting to just take it easy with a retro cherry-themed birthday party, complete with mini-pies, homemade ice cream and a huge helping of family fun…all made possible with a little help from a couple of local friends.
Cherry Birthday Invitation from Art by Ellie
I've known this talented graphic artist for years and she's great at making any event (especially weddings) go the extra mile with the right invitation. I was traveling while these invites were designed, I told her a few things about what I was looking for and she was able to create a masterpiece ideal for a little one-year old party.
http://www.artbyellie.com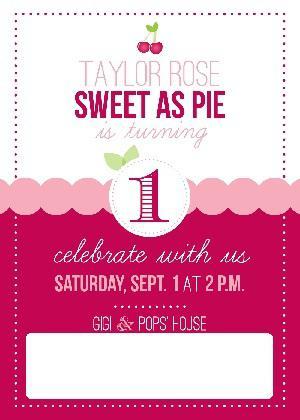 Like a Slice of Humble Pie with
Mini Pies by Keller's Sugar and Frosting
I really love cupcakes. I mean really. When I was pregnant with my first, I actually drove 40 miles to get a strawberry cupcake that I had seen in a magazine. So when this southern-style bakery opened up in Keller over a year ago, the only thing bad (or good) I can say is at least it takes me 20 minutes to get there to indulge in their scrumptious cupcake flavors like cookies and cream, samoa and turtle caramel pie. Then when they broke out the mini pies (about the same as size as and pie pops), I knew exactly when I would be ordering up a batch. In efforts to delight everyone's taste buds, I had them give me a handful of everything. Oh, my, we love pie! (Can't wait to bite into these!)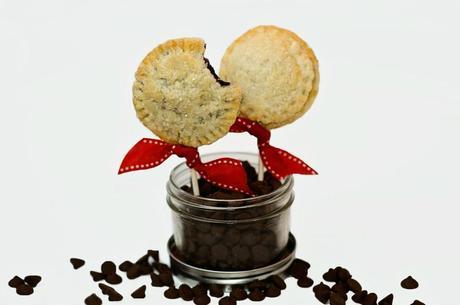 Sugar and Frosting
126 Taylor Street

,

Keller, TX 76248
www.sugarandfrosting.com
Nothing Goes Better with Pies than Ice Cream
Since the party "theme" was supposed to be centered on old-fashioned family fun, it seemed only fitting that we would complement the pies with homemade ice cream. I've never made ice cream myself, so I scoured the Internet looking for a classic vanilla ice cream. Of course, one of my favorites TV foodies, Alton Brown had a recipe for Serious Vanilla Ice Cream that didn't seem too complicated and was rated five stars. A little off the charts…the peach preserves seems a little something delicious! One of the things I really wanted for my ice cream is that it had a solid texture and wasn't watery like soft serve, so I am planning to freeze it for a few hours before serving with the old-school Original Zeroll® Ice Cream Scoop to make the perfect-sized scoops!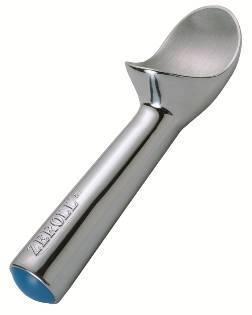 Gift the Girl with Fun for a One-Year Old
Once I selected the cutest dress ever for my princess, it was time to choose a couple of gifts for her to open. While a tea set and a Barbie doll are a little too soon to buy, I was looking for something that could get the little girl to get walking and having some fun.
Sesame Street ABC Playland Inflatable Ball Pit
Learn your ABCs and 123s with the Sesame Street ABC Playland Inflatable Ball Pit.  With interactive side panels, peek-through windows and 20 soft flex balls, she should have a blast learning and playing in this mini ball pit (especially, when mama buys some balls.)
Currently available at Toys 'R' Us and Walmart, $34.99.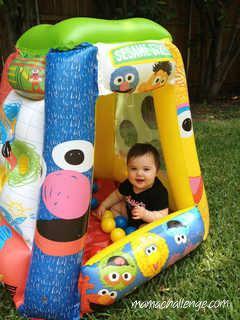 Fisher Price- Little People Lil' Fixer Ride-On
Little handy kiddos are ready to fix anything with this adorable ride-on!  The Fisher Price- Little People Lil' Fixer Ride-On includes a removable hand held tool box, pretend hammer, wrench, screwdrivers and saw. Push the buttons on the dashboard to hear a fun tune and sound effects! 
Currently available at Babies 'R' Us, $34.99
Now that everything is ready to go, all we have to do is wait for this weekend. I'll share photos of all the fun!
Disclaimer: I received  products including the toys and
 the ice cream scoop, for consideration of a review. However, the comments contained here are all my own.