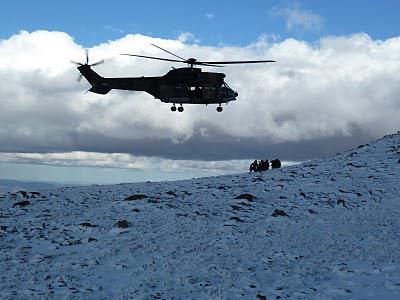 MCSA rescue team members keeping low waiting to be hoisted up the helicopter.
All search & rescue operations in Kwazulu-Natal are lead by the KZN section of the Mountain Club of South Africa (MCSA) in conjunction with the provincial Emergency Rescue Medical Services (EMRS), the South African Polices Services (SAPS) and the South African Air Forces (SAAF)). The MCSA rescue team are all volunteers who regularly attend rescue sessions, cliff practices and helicopter practices.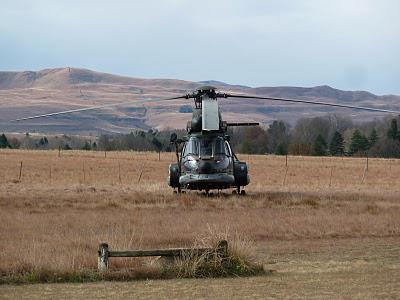 The Oryx is the preferred helicopter on rescue operations.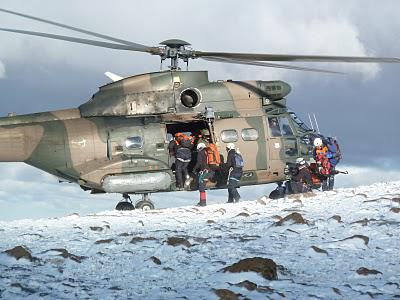 We were deployed on the escarpment which was covered on a thin layer of snow fallen during the last few days.   After about half an hour on the escarpment, the first team was collected and transferred down to the Little Berg, a much more pleasant place.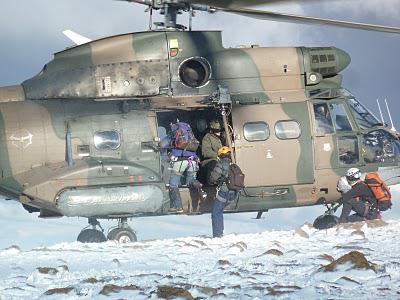 The huge blades of the Oryx produce a big amount of snow spin-drift which makes the use of googles a must. You also need to stay as low as possible otherwise you're risking to be blown away by the little hurricane.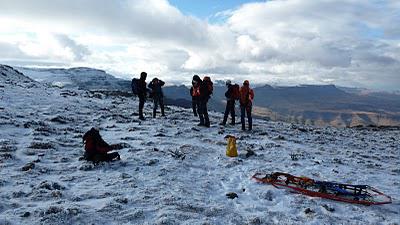 Then the second team, mine, had to wait its turn. It was great to see the Drakensberg covered with snow again but there was an awful freezing cold wind blowing from the west that made it very unpleasant. Fortunately, I had put all my thermals on. But by the time the chopper was back I was ready to leave.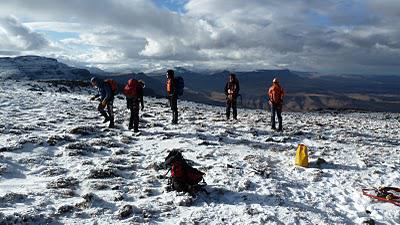 After a few minutes wait everybody started moving around trying to keep warm.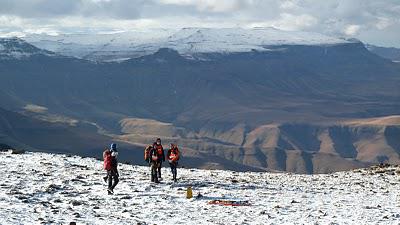 The snowline was quite high, only the High Berg was under the snow. It was actually quite nice when it was calm.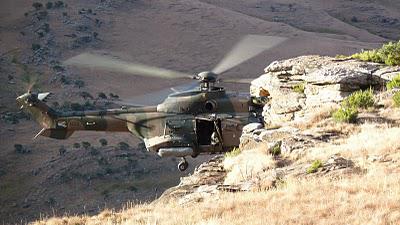 The second part of the day's practice consisted on hoisting operations in the Little Berg. Here, the helicopter looks like having crashed against the rock cliff, pure optical illusion.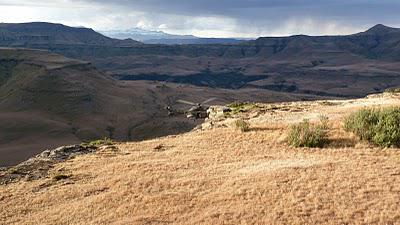 From our point that chopper looked way to close to the rock cliff. The weather was holding where we were but it was a lot more ominous a little further north from us.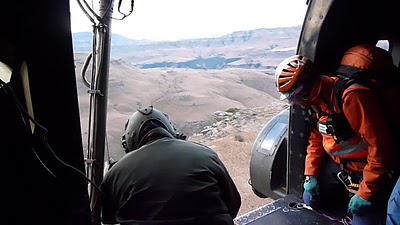 The helicopter engineer is in charge of controlling the hoist while lowering and lifting passengers. Everybody inside is secured by means of carabiners and slings. It was my first helicopter practice. Even though I had been hoisted up as a patience once before (I'll tell the story one day), this time the rush of adrenaline was a lot bigger, just because I was now aware that our lives were pending from a thin cable, a carabiner, a short sling and a harness. And I say "our lives" because we were hoisted in twos!!!