A mother always wants best for her baby and make sure to give the best care for her little bundle of joy.
So now babycare have become easier as Mother Sparsh which offers the best protection, has launched premium 99% water based baby wipes which are #UnscentedWaterWipes.
As we know, water is the gentlest element on the planet and this new pack has extra thick super soft fabric derived from the natural plant which has 99% water content and medical grade cloth.
This makes the new wipes gentle and safe for infants and neonatal sensitive skin.
Mother Sparsh new #SensitiveWipes is for the Extra Care for your toddler.
Key Features of Mother Sparsh 99% Water Wipes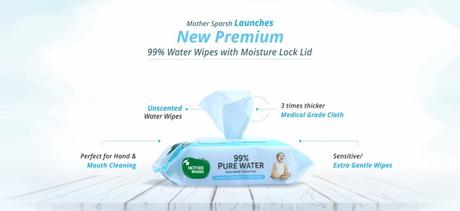 1)More soft and Extra gentle care for sensitive skin of the newborn
A neonatal or newborn needs extra care for the sensitive skin which is pure, safe and gentle.
Mother Sparsh 99% water wipes are specially designed for safe use on the newborns. These baby wipes are made with the finest natural plant fabric and 99% pure water which make them perfect for their delicate skin.
This is three times thicker than the usual baby wipes which makes them extra gentle to clean their face, hand, and body.
2)Fragrance-free, Alcohol-free, Parabens free- No chemicals
It is free from all harmful chemicals like Alcohol &Parabens, so safe for Newborns (Infants) & Babies.
Also, this new pack does not contain any harsh fragrances, which make easy for new mom to use this wipes stress free on her toddler skin.
3)Fabric derived from plants and comes with medical-grade cloth
As its extra soft thick fabric is derived from plants and its pulp, it is three times thicker than the ordinary baby wipes which makes its non- reactive and non-allergic on neonatal skin.
Also Read: Why New Moms should go for Mother Sparsh Water wipes
4)Clinically Proven
This new wipe contains 99% water content which makes them pure and safe. Also, dermatologically tested and clinically examined for preventing infections and rashes.
It is non-allergic and is pH balanced.
5)Moisture Lock lid to carry and use easily
Now you can easily carry and use this wipes as it has a resealable sticker with a protective lid that helps to lock the moisture and preserves freshness which averts the entry of germs and dirt.
Also Read: Five ways to ease your Baby's Stuffy Nose For A Peaceful Sleep
6)Care for the Mother Earth
Mother Sparsh does not use plastic and petrochemicals derived fabric instead use 100% natural and organic contents which makes it totally biodegradable and nature-friendly.
So along with taking care of your newborns, take care of the Mother Earth too by using Mother Sparsh wipes.
Availability
The new pack contains 72 #sensitivewipes at Rs 299/- which are easily available online on Amazon, Flipkart, and Firstcry and in all leading retail stores.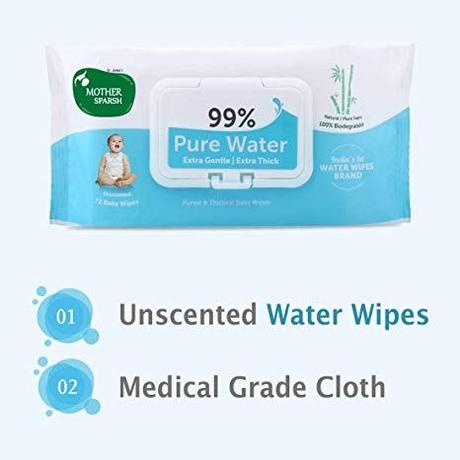 Mother Sparsh always assures to become the best companionship of your babies by giving the sparsh of the mother by utmost care and keeping your newborn clean and hygienic.
Adore the special moments with your loved ones and make your motherhood memorable with Mother Sparsh 99% Water Wipes.
Feel free to comment down your experience, queries, and doubts. Would love to read and answer it.
Also, check out the below video.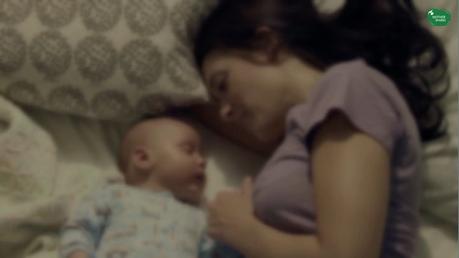 *Disclaimer: This post is sponsored by Mother Sparsh. The content in this post is purely meant for educational purpose only and not meant to be a replacement for a doctor consultation, nor is it a medical recommendation or prescription of treatment.