ANGELINE THAM guests blogs at Simply Beauty SG
For this trial I got a friend Angeline to do the review. Just a little more information about her, she has sensitive skin and as a working mom of two boys her beauty regime is minimal and she doesn't use makeup at all. (Simply Beauty Sg team)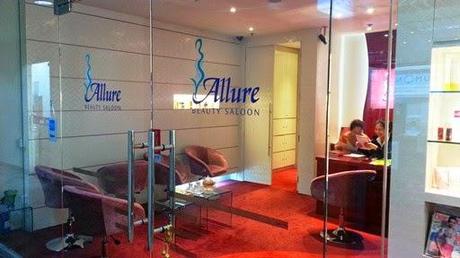 Allure Beauty at Tiong Bahru Plaza
Allure 24K Gold Facial
When I was approached to do this Mother's Day facial trial, I was told that it would make my skin glow like "24K gold". I was curious if it lives up to its promise and its  name and took up the challenge.
Apparently, Gold is an element discovered thousands of years ago, is said to offer age-control and heal skin with its potent antioxidants, and skin nourishing and replenishing properties. One of the softest metals, Gold is readily absorbed by skin, and used in Allure Beauty's 24K Gold Facial. It is pretty awesome as it very quickly minimises the effects of aging like the appearance of fine lines in one session.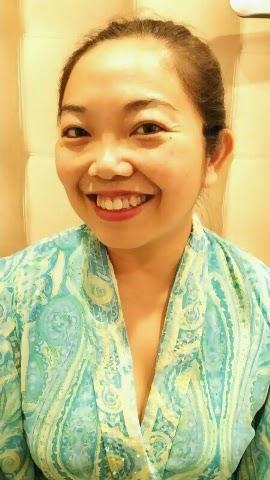 Today's reviewer: Angeline flashing her megawatt smile 
REVIEW/TRIAL
I am pleasantly surprised by the amount of time this therapist at Allure Beauty spent on extracting embedded milia seeds and unclogging my pores. As a person who thinks extractions at facials is a good thing, some facials I have tried stick to the treatment time and simply does a quick extraction of one or two embedded white heads or milia seeds before proceeding with the massages and face mask stages. Hence if you are taking up a facial treatment here, make allowance for the extra time that the facialist may need to give your skin the added attention to remove as much milia seeds as possible.
As my skin is sensitive and although it appears dry on the surface, I was told that deep within, my skin is oily hence, she has customised the treatment with skincare products to address my skin needs. After massaging my face with her hands, the therapist uses the Allure's "Magic Wand", an pleasantly icey cold magical vibrating wand that feels like ripples running on my skin is gently moved over my face in an upward motion for a good 15-20 minutes. I could feel my skin gradually tightening and being lifted after a while (please see the picture below). Apparently this wonder wand also retexturises my skin, leaving it finer and smoother, while also prepping my skin to absorb the nutrients from the face mask that follows.
(See for yourself my before and after picture. Pictures speak a thousand words.)
VERDICT
The next two days after the facial, my skin still appears revitalised and rejuvenated, with an uplifted glow on my face. It made my day when my hubby and two boys commented I looked visibly glowing and even more youthful than before. Having overseen the beauty section in Cleo magazine before a career switch more than a decade ago, I recall learning from beauty experts that such lifting facials which sort of makes the skin and facial muscles exercise should start with a regular once or twice a week session, for the first month, before eventually reducing the frequency to once a month. This would help the lifted results of such facial treatment last longer between facial appointments.
Take this opportunity to send mom for this facial package at the special Mother's Day rate to see the results for yourself!
Angeline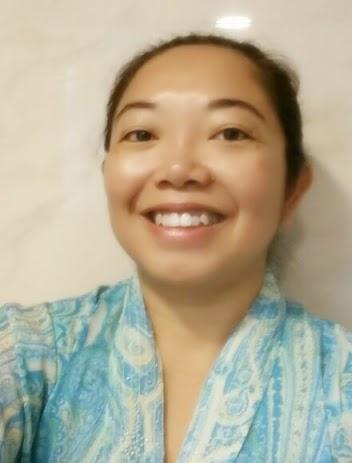 Angeline glowing the day after the treatment
with feeling the tighter and lifted benefits as the complexion is smoother and more hydrated
WHAT'S GREAT ABOUT Allure 24K Gold Facial
At a glance, Allure Beauty's 24KGold Facial aids in lymphatic drainage, improving blood circulation thus bringing a glow to the face. The healing effects and the body's polarised ion restoring benefits of 24K Gold Facial is realised with the latest technology to revitalise, rejuvenate skin cells and recover skin's natural glow.
Allure Beauty Magic Wand
is a vibrating probe (or wand) that revitalises skin and facial muscles as the therapist uses it to massage the skin. During this massaged, blood circulation and lymphatic drainage are improved. This results in maximised penetration of nutrients from the face mask applied on the skin towards the end of this pampering treatment.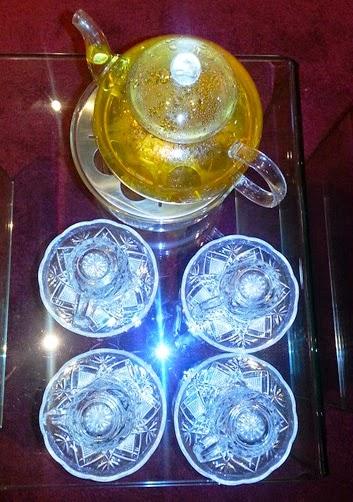 Each facial treatment at Allure Beauty ends with
a cup of Chrysanthemum tea 
Allure Beauty Mother's Day Promotion
Allure Beauty wants to bless mums with a special glowing facial at a
special S$98
(usual price per session, S$280). Simply highlight to the staff at Allure Beauty that you would like to make an appointment for the Allure Beauty 24K Gold Facial that you have read about at
Simply Beauty SG blog
 as this special rate is only given to our viewers and fans.
A set of Atache Soft Derm Serum goodie bag would be given out to mums taking up this promotion. 
Enjoy and stay youthful and joyful always.

ALLURE BEAUTY SALOON is located conveniently for your beauty fixes at:1. Tiong Bahru Plaza (next to Tiong Bahru MRT Station), #05-04A.Tel: 6270 8845.
Please LIKE us on FACEBOOK account, Instagram or Webstagram and Twitter to stay abreast of our blogs and participate in our activities. Thank you. See you!
*captions by Simply Beauty SG Team