1. Michael Kors Tennis Bracelet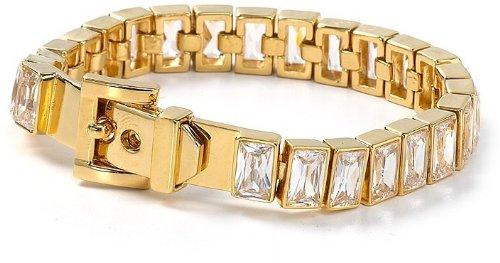 This buckle closure, gold tone, inset tennis bracelet is beautiful in so many ways. Michael Kors took the classic tennis bracelet and made it even more irresistible.  This buckled beauty comes in both gold tone and silver tone. It's guaranteed to make Mom smile. It's also a great conversation piece for her and her friends.
2. A Trendy Tote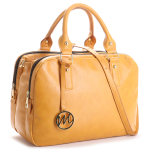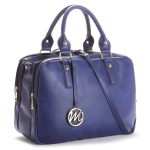 I recently posted about the Kate Spade structured bag craze. It's all about the classic square handbag with a modern twist. Give Mom an instant wardrobe lift by getting her the ultimate tote.
Ditch the typical black and brown. Give mom the gift of color this Mother's Day. Check out the carrie compartment bag in marigold and indigo from Emilie M.
It's an all-in-one bag with different compartments, textured outside and brass accents. Also has removable shoulder straps. It's an all around great bag year round. It's not only fashionable, but very functional with easy-to-organize pockets and sections.
Mother's Day Sale: Use coupon code IHEARTMOM and receive 30% your order.
3. Leather Biker Jacket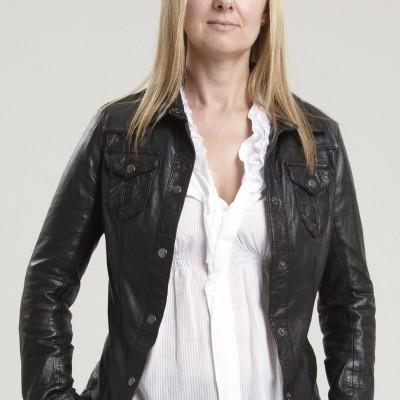 photo credit:
JLGLeather
The summer months are weeks away and I know what you're thinking. A leather jacket?
Yes, indeed! This is the best time to grab leather jackets.
Every fashion-forward, trendy Mom should have a least one biker jacket. Mom can add a little edge to anything by simply throwing it on. Pair it with jeans, boots or even skirts for an adventurous spin on a traditional outfit.
Keep it feminine by choosing more fitted jacket styles that rest above or at the waistline. Button and zippers in the right places can give Mom a more slimming look too. And, for an even more glamorous touch, go pink or red. Or any other color besides black or brown will give her a boosted "wow" factor.
3 Must-have Gifts for Mom
These are my 3 must-have gifts for Mom this year. Flowers are great. But every Mom deserves a little "bam-pow-wow" every now and again. Spice it up! Think outside the box.
What are you getting Mom this year? Is there anything you'd add to this list?