Everytime I feature a brand I have yet to mention on this blog, I get really excited. It's like embarking on a new journey and opening a new door leading to a whole new experience of different products. Urban Rituelle is a brand of which I have heard nothing but good things about and this is my very pleasant first experience with them.
Urban Rituelle is an Australian-made bath & body care brand "striving to source the highest quality ingredients available" and "offering geuinely beautiful products with a distinctive design". What can I say - just browsing through their website admiring the beautifully designed products makes me feel relaxed and content.
A definite bonus of Urban Rituelle is their environmental awareness and how they do not test on animals. I think there is a definite steady shift of consumers supporting such brands so I just wanted to highlight that.
Mother's Day is fast approaching and Urban Rituelle has very kindly sent me their Tea Ceremony Hand Therapy in Hibiscus & Cranberry to introduce to you. If you are looking for a Mother's Day gift, here's an idea!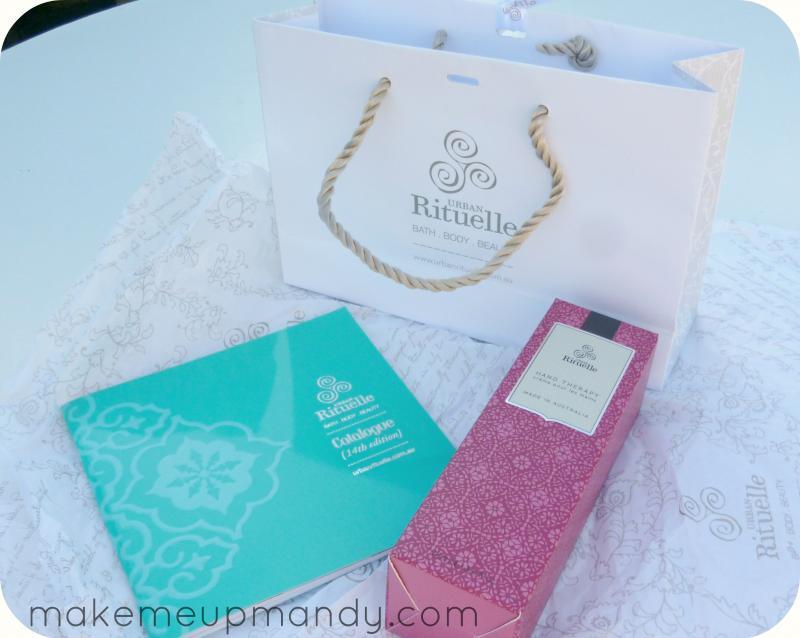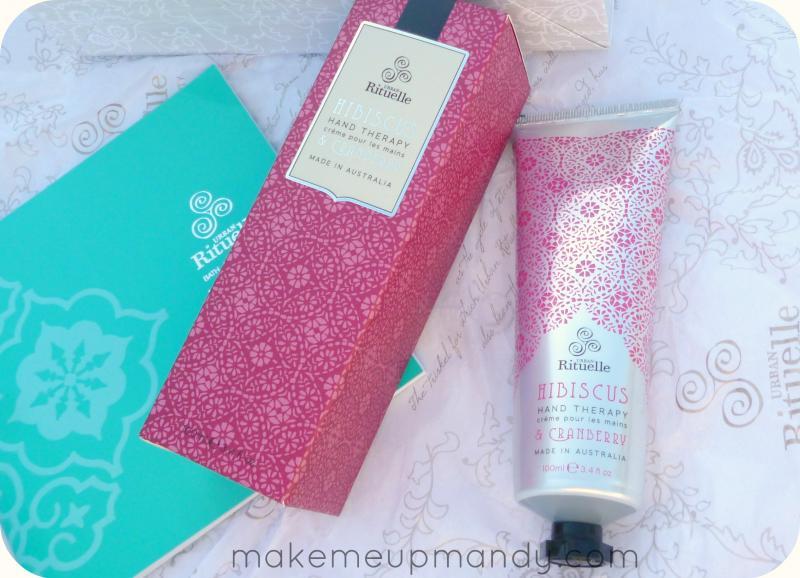 This Urban Rituelle Hand Therapy would be especially useful and effective for the coming winter months. It is ultra-nourishing, rich in botanical extracts... and it smells heavenly. Seriously, I do not get these awesome brands who seem to read my mind.  If you are a regular reader, you'd know I love the cranberry scent. If ever there is a lip balm in cranberry flavour, I MAKE IT MINE. I just can't get over the sweet Cranberry (plus Hibiscus) scent in this beautifully packaged Hand Therapy.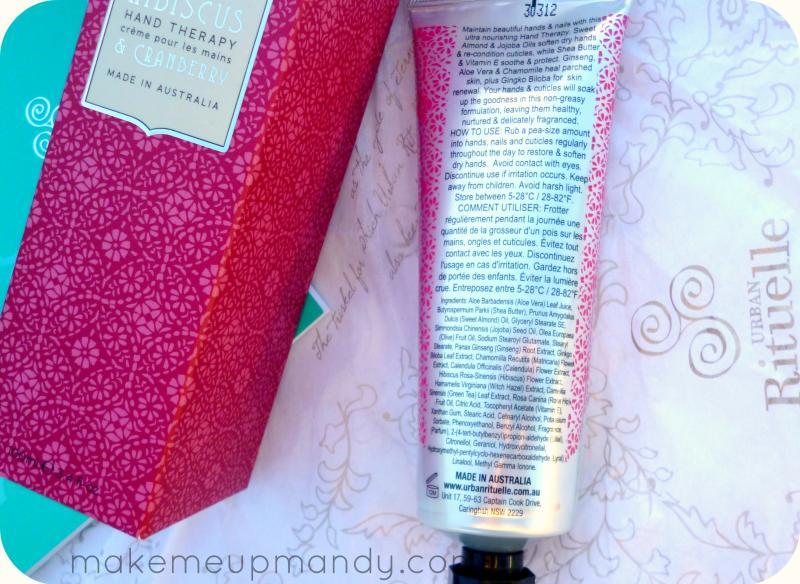 This Urban Rituelle Tea Ceremony Hand Therapy contains:
- Sweet Almond & Jojoba Oils to instantly soften dry hands & recondition split cuticles
- Shea Butter & Vitamin E to protect skin against the elements
- Ginseng, Aloe Vera & Chamomile to heal parched skin
- Gingko Biloba to promote skin renewal
A huge draw for me is its non-greasy formula. In fact, I couldn't resist merely looking at it while writing about it - I just had to treat my hands to some of this luxurious cream and no greasiness meant that I could go about with whatever I needed to do right away with ease. The fragrance it leaves behind lingers for a rather long time and I find myself very happily sniffing the back of my hands :)
If you see me do that, you know I probably have this Hand Therapy on! It is truly gorgeous and I'm already having a good ol' browse through their website.
If you are looking for a Mother's Day gift, Urban Rituelle has such a lovely range of products and a Mother's Day promotion.
 The Urban Rituelle Tea Ceremony Hand Therapy in Hibiscus & Cranberry retails for only $19.95 (100ml). Do check out their website at www.urbanrituelle.com.au.
Have you tried Urban Rituelle's products?


*Please note, this product was sent to me for review purposes. Still, my opinions are honest and uninfluenced as always.