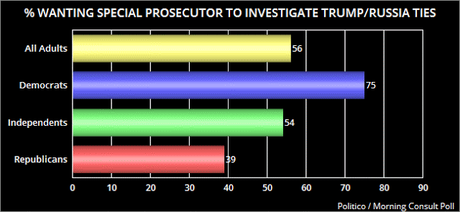 A couple of days ago, I brought you a CNN / ORC Poll that showed a substantial majority of Americans want a special prosecutor to be appointed to investigate the ties between Donald Trump (and his aides) and Russian officials. They want to know if laws were broken or unethical actions taken to interfere with a fair election -- and whether Trump now owes the Russians for actions they took during the campaign.
Now a second poll verifies that. It is the Politico / Morning Consult Poll -- done between March 2nd and 6th of a random national sample of 1,992 adults, with a 2 point margin of error. It shows that 56% want a special prosecutor appointed (while only 30% do not) -- a 26 point margin.
Americans don't trust the Republican-controlled Congress to fully investigate this matter -- and they do want it fully investigated.