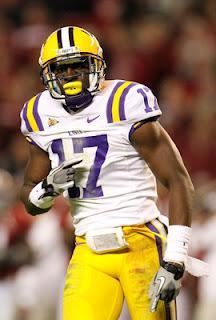 Photo: Getty Images - Kevin Cox
- Troy Ballard 
LSU cornerback Morris Claiborne scored a rollicking four out of 50 on his Wonderlic test -- an exam given to all players entering the NFL draft to gauge their cognitive ability -- but luckily for the former Tiger stud, it won't matter.
Most will remember that Vince Young (now unemployed) originally scored a six on the Wonderlic, a number thought to be unfathomable for a quarterback. Claiborne's score has raised some eyebrows, just like Young's. There have been major concerns about his overall intelligence, and also even bigger questions about how me managed to not flunk out of LSU.
Reality check -- most college football players are not students. A majority of these players don't go to marquee football colleges to develop as a student and earn a degree. It's like an advanced try-out for the NFL. That's it.
That leads to this bomb -- how did Claiborne not flunk out of LSU when he scored a four on a simple cognitive exam? Use your imagination.
But as I stated before, this desperately low score won't have any repercussions on his draft status as a first round pick. That's the beauty of being an extremely athletically gifted and talented cornerback in a pass-happy NFL.
Unlike a quarterback that is forced to study and read defensive schemes before every single snap, a corner only has one assignment a play. Cover the receiver ahead of them. Cover a zone on the field. Blitz towards the quarterback. It's a very straightforward job.
Playing corner at any level is more about the ability to react to the play as it is developing and happening at live time. Rarely does a corner utilize a pre-snap read, as receivers never give up their route before they are actually running it. Corner have to be able to react on the fly against some of the quickest and most talented athletes in the world.
Athleticism is key for any corner.
And guess who has athleticism off the charts?
If you tossed out the name Claiborne, bingo.
The kid has been called Patrick Peterson 2.0. His ability to make react and throw his body into plays makes him an invaluable draft selection. Forget that he totally tanked a cognitive exam. Claiborne can flat-out play the game of football, and his natural talent is absolutely mind numbing.
Draft boards have the LSU star going as early as fifth-overall to the Tampa Bay Buccaneers, and if not there, he's projected to go almost immediately after to the Jacksonville Jaguars. And as long as his interviews and private workouts go seamlessly, as they are expected to go, Claiborne will be drafted early without a doubt.
These teams are aware that the Wonderlic is nothing more than an over-hyped and outdated test that has almost no correlation to how a player translates into the NFL. Claiborne could very well be the next Darrelle Revis (who scored a 10 on the test), and he's well worth cashing in on based off natural talent alone.
Be sure to follow Beard and Stache on Twitter @BeardAndStache, and also Troy @TroyBallards, Like our Facebook page HERE!