Tacos meet Morocco with the addition of crumbled Merguez sausage and harissa.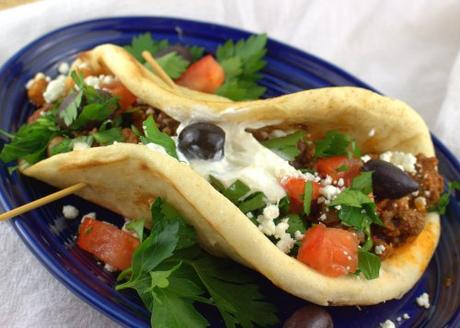 Morocco Tacos
By Sue Lau | Palatable Pastime
This is a twist on the usual taco or gyro, with crumbled Merguez sausage and chickpeas, seasoned with spicy harissa, forming the basis for this tasty sandwich. With a few olives, tomatoes, crumbled goat or feta cheese and a sprinkle of parsley, you are all set to have your own fusion lunch.
If you can't get Merguez locally, you might try using ground lamb in a pinch, but the flavor will be a little less spicy.
I like the solid pieces of pita for this rather than the pocket bread, and I like to brush those with a little butter or oil and griddle them until they are warm,slightly charred, soft, and flexible. I did pin the taco up with skewers just for the photo- I wanted it standing up so you could see inside better. You won't need those.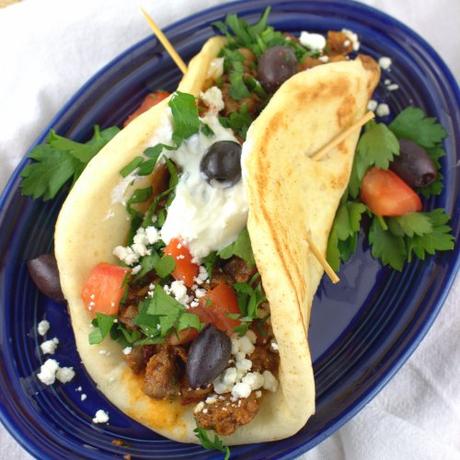 This is perfect served with a side of rice pilaf or perhaps some extra pita pieces and some creamy hummus. Or perhaps a Greek or Persian type tossed salad if you like more veggies.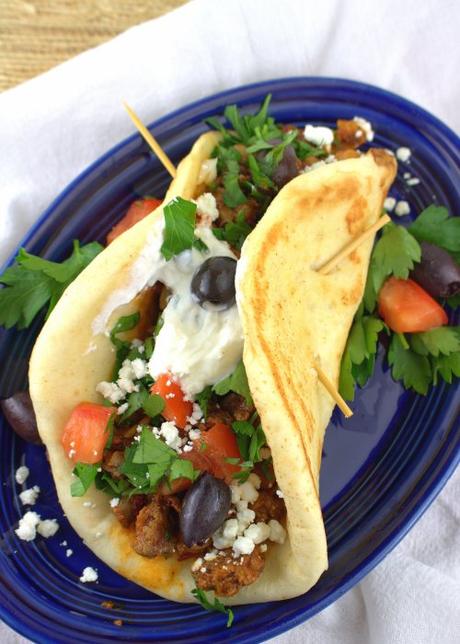 Morocco Taco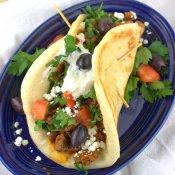 Ingredients:
10 ounces Merguez lamb sausage (2 links) casings removed
3/4 cup chopped onion
1 tablespoon olive oil
15.5 ounce can chickpeas, drained
1 tablespoon tomato paste
1 cup water
2 teaspoons harissa paste
1/4 teaspoon cinnamon
Toppings and Bread:
Method: