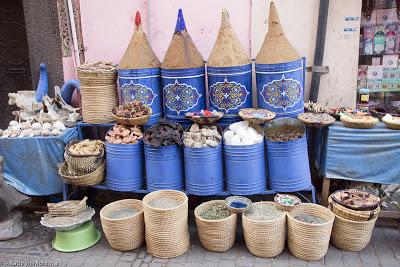 Marrakech has a number of spice shops in the medina (the old quarter). These blue canisters were more elaborate than the enticements of most of the shops.
My friend, Kathryn Mohrman, is a professor at Arizona State University; she travels widely for her job as director of several projects with partner universities in China and Vietnam. She recently visited Morocco traveling to Marrakech, Fes, and Rabat and has graciously agreed to share some of her experiences. Kathryn is an avid and talented photographer and is exhibiting her photos during February and March

2013

in

the Vault Gallery of

the library of Arizona State University's downtown campus in Phoenix. I have known Kathryn since we were students together at Grinnell College in Iowa. Here are her impressions of her trip.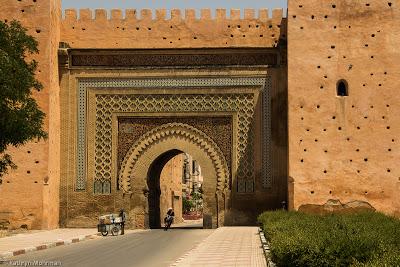 All the old cities in Morocco that I visited were enclosed by tall thick walls, punctuated by gates at key intervals. This gate in Meknes, a former royal capital near Fes, is typical in scale and elaborate decoration.
The year 2012 was special because my job at Arizona State University took me to some interesting places.  One exciting adventure was my participation in the International Women's Forum conference in Rabat, Morocco in May. I met fascinating women from all over the world and learned more about the Arab Spring, the theme of the conference. We also had a chance to go to the royal palace for a reception hosted by Princess Lalla Salma, wife of King Mohammed VI.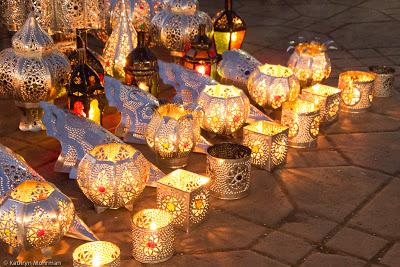 One evening I discovered a lantern vendor on Djemaa el-Fna. The candles twinkled through the perforations in the brass lanterns, making a lovely pattern of light and shadow on the pavement and the people passing by.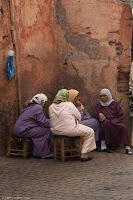 I took advantage of being in Morocco to visit Marrakech and Fes—stayed in the medina in each place and absorbed the sights and sounds and flavors of North Africa. The shops in the medina sold basic spices such as cinnamon or mint, but each shop had its own special blend of dozens of spices for mixing with fish or vegetables.  My strongest memory is sitting on the rooftop terrace of my inn and hearing the sunset call to prayer coming from all directions as each mosque broadcast the time to its neighborhood.  King Mohammed has responded to the Arab Spring protests with a series of reforms, including a new constitution, that move in the right direction, although not as far or as fast as some would like.
In the medina of Fes, groups of women and groups of men get together (separately) to chat about everything from the weather to the absurdities of the tourists. Many women of all ages wear headscarves, even though Morocco is more relaxed about religious practices than some other Muslim countries. A surprising number of both women and men also wear caftans, perhaps for comfort, perhaps to keep their western-style clothes clean underneath.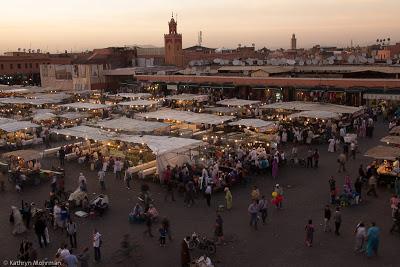 The center of old Marrakech is Djemaa el-Fna, a huge plaza filled with tea vendors, snake charmers, trinket vendors, traditional musicians and dancers. In the evening, mobile restaurants move in, many of them serving grilled skewers of meats and vegetables. I ate at the stalls with the largest numbers of local people. Cheap and delicious!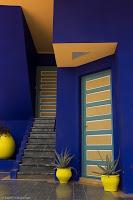 In the 1920s, artist Jacques Marjorelle created a modernist garden of sunny yellow, cobalt blue, and cool green, later purchased by Yves Saint Laurent. A city park today, the garden is an oasis of trees, flowers, and structures in a busy section of Marrakech.
Left: 

Blue d

oorway in the garden created by Jacques Marjorelle.