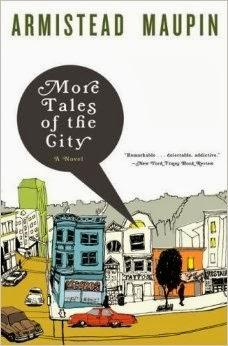 The tenants of 28 Barbary Lane have fled their cozy nest for adventures far afield. Mary Ann Singleton finds love at sea with a forgetful stranger, Mona Ramsey discovers her doppelgänger in a desert whorehouse, and Michael Tolliver bumps into his favorite gynecologist in a Mexican bar. Meanwhile, their venerable landlady takes the biggest journey of all—without ever leaving home. - Goodreads
------
You know those Will Ferrell memes that have been going around? Oh, right, you might need me to narrow it down a bit. Okay, these ones: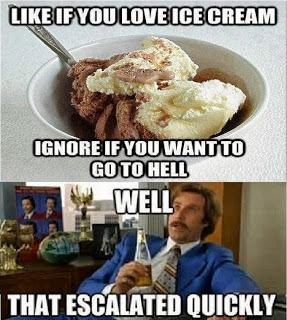 Or, if you prefer (since you're a bookish crowd):

Well, the whole time I was reading this book, that's pretty much all I kept thinking. This review is going to have a bunch of spoilers (about both this and the previous book), because there's really no way to describe or assess this book without them. So, consider this your

SPOILER WARNING

. If you're planning to read this book, go and do it now and come back when you're done. I promise I won't go anywhere.
Nope? Okay, at your own risk, then...
We left the residents of 28 Barbary Lane abruptly. The rooftop creepy guy turned out to be even creepier than our wildest suspicions (and subsequently fell off a cliff). We knew Mrs. Madrigal had a secret, but not what it was. We discovered that D'Orothea isn't who she seems to be, and that she and Mona aren't going to continue living together. Michael and Brian finally learn to get along, though they're both pathetically single and Michael and Jon don't get any closure. Lots of story lines in need of an ending. 
Enter More Tales of the City. I expected more of the same - sweet, quirky, and lovably naive characters encountering dating drama, work drama and possibly some drama from the past. What I got? (And here's where the spoilers start...) Amnesia. Paralysis. A rich ladies' cult. A plot to beat up a pregnant lady. Death by fiery automobile accident. Everyone turning out to be related. A whorehouse in the desert. And cannibalism. Yes, CANNIBALISM. 
Oh wow, was I not prepared for any of that. 
On the plus side, we finally learn what's up with Mrs. Madrigal. So there's that.
------
Book Title:
More Tales of the City
Author:
Armistead Maupin
Edition:
Paperback
Published by:
HarperPerennial
Released:
May 29th, 2007 (Re-issue, original January 1st, 1980)
Genre:
Fiction, San Francisco, 1970s
Pages:
340
Date Read:
September 18-23, 2013
Rating:
6/10