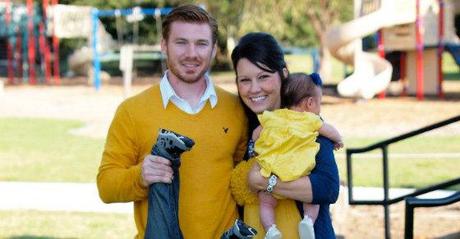 Christian 'parenting advice' columnist Justin Carper's three-year-old son just shot his baby sister with dad's 9mm handgun. How will he explain this? Photo from 
Justin Carper's website
Addicting Info
What parenting advice would you give to those who have both small children and firearms in their household? That's the dilemma that may now be facing North Carolina father Justin Carper. Carper is a church youth group leader and advice columnist. His unpaid column offering parenting advice appears in the 

Shelby Star, 

in Shelby, North Carolina. On Thursday, February 6, Carper's three-year-old son shot his 17-month-old sister with Carper's 9mm handgun.
This 'parenting advice' columnist didn't think his three-year-old could find and fire his gun.
Carper told the 

Gaston Gazette 

that he kept his gun in a secret compartment atop his dresser. At least he thought it was secret. He was amazed that his three-year-old son could climb on a stool, get the gun, and pull the trigger. What is more amazing is that someone who writes a parenting advice column doesn't seem to be aware that kids will find anything "hidden" that is not actually under lock and key. Justin Carper is probably aware of that now.
There's a video too.  It seems the real occupation of Justin Carper is that of used car salesman. Is that a riot, or what?  Christian, parental advice-giver and used car salesman.