We Interrupt This Program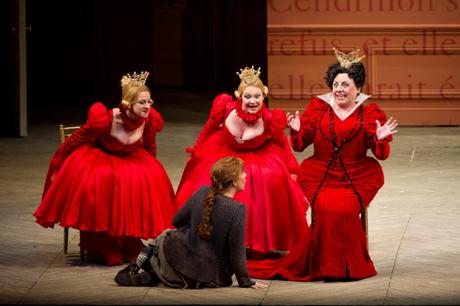 Scene from Laurent Pelly's production of
Cendrillon
by Massenet
No sooner had one Metropolitan Opera broadcast season ended when the dutiful announcement came of productions yet to come.
By that, I mean General Manager Peter Gelb's glib note of "an exciting lineup of live radio broadcasts and movie theater transmissions in store" for listeners in the upcoming 2017-18 season. No word, however, about the company's growing financial concerns or the cost-cutting measures being taken behind the scenes (see the New York Times for details).
While there are some tantalizingly obscure items in the lineup, the coming Met Opera season is already shaping up to be another ho-hum event. Stepping up to the plate, listeners for the most part can be assured of all-too-standard fare, with precious few out-of-the-way works to enliven what promises to be exceptionally conservative programming.
Surely, there is nothing comparable to last season's revival of Cyrano de Bergerac by Franco Alfano, based on Edmond Rostand's play about the giant-nosed swordsman. Recalling your opera history, Alfano was the fellow granted the unenviable task of completing Puccini's Turandot. The only thing that kept me from reviewing that 2005 production was my total unfamiliarity with the piece. I did listen to the May 6, 2017 broadcast, which starred the versatile Roberto Alagna in the title part, debuting soprano Jennifer Rowley as Roxane, and (to my surprise) Brazilian tenor Atalla Ayan as the tongue-tied Christian. To my ears, Cyrano was a pleasant-sounding, late verismo work with a moving final scene and few memorable tunes, but I do digress.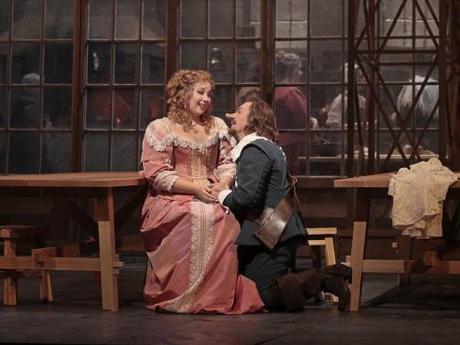 Roxane (Jennifer Rowley) with Cyrano (Roberto Alagna) in Franco Alfano's
Cyrano de Bergerac
(Ken Howard / Met Opera)
There are no real novelties in the new season — that is, if you consider Bellini's Norma (broadcast on December 16, 2017) and Verdi's Requiem (heard December 2) and Luisa Miller (April 14, 2018) to be novelties in-and-of themselves. Still, when was the last time you raved over a live transmission of Norma, one of bel canto's finest achievements? And when was it, really, that Luisa Miller, Verdi's Sturm und Drang middle-period drama, stirred anyone's blood?
Ah, well, at least one can drool over the broadcast of Norma, which stars power diva Angela Meade as the Druid priestess Norma (a dead-ringer for Greek mythology's Medea), the equally endowed mezzo of Jamie Barton as her rival Adalgisa, Maltese tenor Joseph Calleja as Pollione, and British basso Matthew Rose as Oroveso. The orchestra will be presided over by Joseph Colaneri in this new Sir David McVicar production.
For Luisa Miller, we have what might be the final pairing of maestro James Levine with former tenor-turned-baritone Plácido Domingo as Luisa's father, Miller. I have no idea how Domingo will deliver the vocal and dramatic goods this role calls for. Heck, I'm still in thrall over the sheer sound of the young Sherrill Milnes when he sang the part in the late 1960s, or the voluminous Cornell MacNeil in his heyday, with high notes to spare.
Of course, these were Verdian masters in their prime, but I'm willing to give old Plácido a try. And why not? He's come through unscathed before, so don't count him out just yet! Others in the cast are the rising prima donna Sonya Yoncheva as Luisa, mezzo Olesya Petrova as Federica, tenor Piotr Beczala as Rodolfo, and basses Alexander Vinogradov and Dmitry Belosselskiy as Count Walter and Wurm, respectively. I'm hoping James Levine can bring some thunder to the proceedings.
It Always Sounds Better in French
To say there is no adventurous oeuvre out there might be an underestimation on my part. In fact, one of the premieres planned for this season is of Jules Massenet's rarely heard Cendrillon, an enchanting French retelling of the Cinderella fairy story that rivals La Cenerentola, the more familiar Rossini version. With a cast headed by mezzo Joyce DiDonato in the title role, Alice Coote as Prince Charming (yes, it's one of those "trouser" roles for women), and stratospheric coloratura Kathleen Kim as the Fairy Godmother, this Laurent Pelly production, conducted by fellow Frenchman Bertrand de Billy, promises to be a truly Gallic affair. The opera airs on April 28, 2018, a simulcast with the Live in HD series.
Cinderella (Joyce DiDonato) goes to the ball in Massenet's
Cendrillon
There is also a new work in the offing, another of those operas based on this-or-that famous novel or movie: Thomas Adès The Exterminating Angel, adapted from the iconoclastic 1962 Luis Buñuel film. I'm no fan of Buñuel's output, but if anyone can turn this director's surrealistic horror story of guests trapped at a dinner party into a viable operatic vehicle, then Adès surely can. The production is by Tom Cairnes and premieres in late April 2018 (the performance will be recorded on November 18, 2017, for re-broadcast).
In addition to Cendrillon, Massenet's Thaïs is also up at bat (scheduled for January 20, 2018), in John Cox's lavish production. Soprano Ailyn Pérez sings the role of the Alexandrian courtesan, with baritone Gerald Finley as the enamored Athanaël, tenor Jean-François Borras as Nicias, and David Pittsinger as Palémon. The conductor will be Emmanuel Villaume.
Another French favorite, Gounod's Roméo et Juliette (May 5, 2018) has been steadily gaining ground in popularity over its more familiar older cousin Faust. A surprise hit last season (due to the impressive combination of German soprano Diana Damrau with smoldering Italian tenor Vittorio Grigolo), this year listeners will be treated to the aforementioned Ailyn Pérez as Juliette romanced by her Roméo in the person of New Orleans tenor Bryan Hymel, in the Bartlett Sher-Michael Yeargan production. The conductor is Señor Domingo, of all people. Mercutio will be sung by Joshua Hopkins, Stéphano by Karine Deshayes, and Frère Laurent by Kwangchul Youn.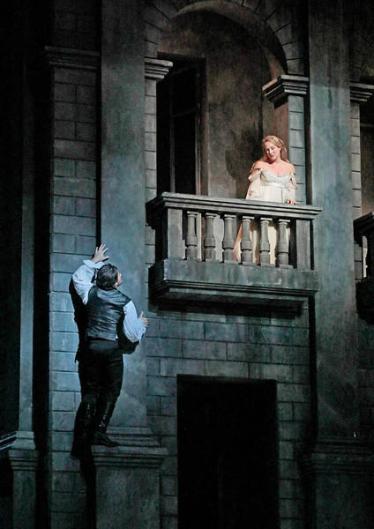 "Wherefore art thou, Romeo?" The Balcony Scene from Gounod's
Romeo et Juliette
The score so far: two for Massenet and one for Gounod. And that's it for Les Français! What about the Saxons? Well, I'm afraid there's not much improvement in that department: only three German works by an equal number of composers.
On February 7, 2018, there will be a repeat of the controversial but well-received François Girard production of Wagner's Parsifal. The cast for this revival will include Klaus Florian Vogt as Parsifal (the role that Jonas Kaufmann made his own), returning bass René Pape as Gurnemanz, Evelyn Herlitzius as the sultry Kundry, the excellent Peter Mattei as the long-suffering Amfortas, and inky-voiced Evgeny Nikitin as the wizard Klingsor. Boy wonder Yannick Nézet-Séguin will be on the podium.
Starting the New Year right, we take note of Humperdinck's Hansel and Gretel in the weirdly fantastical production by Richard Jones, sung in English. Set for January 6, 2018, the cast stars Irish-born mezzo Tara Erraught as Hansel and soprano Lisette Oropesa as Gretel, with veteran mezzo Dolora Zajick as their mother Gertrude, Quinn Kelsey (a baritone star in the making) as their father Peter, and German tenor Gerhard Siegel (a wickedly nasty Mime in Siegfried) as the maniacally cackling Witch. Donald Runnicles is the conductor.
Wrapping up the paltry German contingent is Richard Strauss' Elektra, broadcast on March 17, 2018. American soprano Christine Goerke will make her role debut at the Met as the titular protagonist. She will be joined by Dutch diva Elza van den Heever as her concerned sister Chrysothemis, mezzo-soprano Michaela Schuster as their murderous mother Klytämnestra, Jay Hunter Morris as her husband Aegisth, and bass-baritone Mikhail Petrenko as the revenge-seeking Orest. The landmark Patrice Chéreau production, with monumental sets by Richard Peduzzi, will be presided over by Yannick Nézet-Séguin.
Mamma Mia, That's Italian!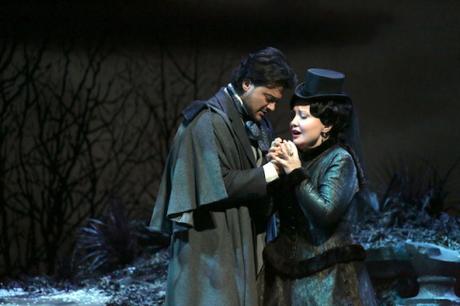 Lucia di Lammermoor
with Vittorio Grigolo as Edgardo
The remainder of the season will be taken up by Italian works, which is the core of any opera house's repertoire. However, warming up in the bullpen are several items by Herr Mozart.
The Austrian composer is well represented with simultaneous revivals of Julie Taymor and George Tsypin's Die Zauberflöte (sung in the original German) and, in a truncated English adaptation by J.D. McClatchy, The Magic Flute. We'll be hearing The Magic Flute on December 9, 2017, with Hanna-Elisabeth Müller as Pamina, Charles Castronovo as Pamino, Nathan Gunn as the birdman Papageno, Kathryn Lewek as the Queen of the Night, Alfred Walker as the Speaker, and Tobias Kehrer as Sarastro, with Evan Rogister on the podium.
Two weeks later, on December 23, Mozart's Le Nozze di Figaro (The Marriage of Figaro) will be performed in Sir Richard Eyre's Upstairs-Downstairs meets Downton Abbey rendition. It will be populated by Czech bass-baritone Adam Plachetka as Figaro, soprano Christiane Karg as his betrothed Susanna, Rachel Willis-Sørensen as Countess Almaviva, basso Luca Pisaroni as the womanizing Count Almaviva, and mezzo-soprano Serena Malfi as Cherubino. The work will be conducted by Harry Bicket.
Towards the latter part of the season (on March 31, 2018), the last of the Mozart-Da Ponte collaborations returns in Phelim McDermott's Così fan tutte ("So Do They All"). It's a madcap affair, updated to the 1950s; a drawing-room comedy of sparring couples, featuring Amanda Majeski and Serena Malfi as the sisters Fiordiligi and Dorabella, along with Broadway's Kelli O'Hara as Despina, Ben Bliss and Adam Plachetka as Ferrando and Guglielmo, respectively, Christopher Maltman as the suave Don Alfonso, and maestro David Robertson presiding.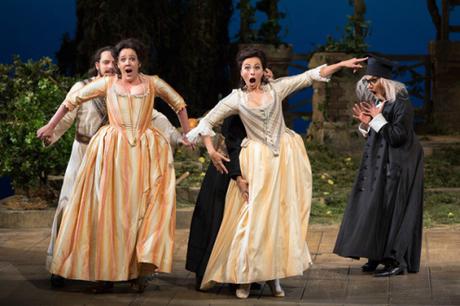 The Met's madcap version of Mozart's
Così fan tutte
As we mentioned above, this will be a predominantly Italian season, which kicks off with Verdi's Requiem on December 2, 2017 — a rather ominous note, if you ask me. James Levine, the company's Music Director Emeritus, will be leading the forces of the Metropolitan Opera Orchestra and Chorus in a performance of the Manzoni Messa da Requiem (its original title). The soloists will include soprano Krassimira Stoyanova, mezzo Ekaterina Semenchuk, tenor Aleksandrs Antonenko, and bass Ferruccio Furlanetto. I cannot vouch for the other participants in this staggeringly forceful piece, but most certainly Signor Furlanetto will lend his potent voice and signature artistry to one of the Italian master's most noteworthy accomplishments.
This pillar of the Italian repertory will be joined the following month by the double-bill of Mascagni's Cavalleria Rusticana and Leoncavallo's Pagliacci (January 13, 2018), with Roberto Alagna doing double-duty as Turiddu and Canio; the new David McVicar production of Puccini's Tosca (January 27, 2018) with Sonya Yoncheva (replacing Kristine Opolais), Vittorio Grigolo (in lieu of Jonas Kaufmann), and Sir Bryn Terfel in the leads; Verdi's potboiler Il Trovatore (February 3, 2018), featuring Maria Agresta, Yonghoon Lee, Quinn Kelsey, Anita Rachvelishvilli, and Štefan Kocán; and Donizetti's L'Elisir d'Amore ("The Elixir of Love"), starring Pretty Yende, Matthew Polenzani, Davide Luciano, and Ildebrando D'Arcangelo.
Along similar lines, there is the classic Franco Zeffirelli production of Puccini's La Bohème (February 24, 2018), with Yoncheva, Susanna Phillips, Michael Fabiano, and Lucas Meachem; the same composer's Madama Butterfly (March 3, 2018) in the now-iconic Anthony Minghella production, with Ermonela Jaho, Maria Zifchak, Roberto Aronica, and Roberto Frontali; Rossini's Semiramide (March 10, 2018), with Angela Meade, Elizabeth DeShong, Javier Camarena, and Ildur Abdrazakov; the Zeffirelli mounting of Puccini's Turandot (March 24, 2018), which features Martina Serafin, Guanqun Yu, Marcelo Álvarez, and Alexander Tsymbalyuk; and, last but not least, Mary Zimmerman's version of Lucia di Lammermoor (April 7, 2018) by Donizetti, starring Olga Peretyatko-Mariotti, Vittorio Grigolo, Massimo Cavalletti, and Vitalij Kowaljow.
The sole non-Italian, non-French, and non-German work is famed Austro-Hungarian composer Franz Lehár's operetta The Merry Widow (broadcast on December 30, 2017) in Jeremy Sams' veddy British translation. The cast includes the ever-popular Susan Graham as Hanna Glawari (the cheerful widow of the title), Paul Groves as Danilo, Andriana Chuchman as Valencienne, Taylor Stayton as Camille, and veteran baritone Sir Thomas Allen as Baron Mirko Zeta (!). The conductor will be Ward Stone for this Susan Stroman production.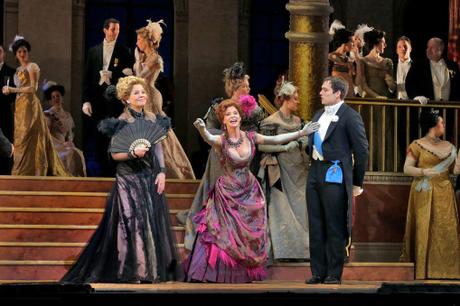 Renee Fleming (Hanna) and Kelli O'Hara (Valencienne) in
The Merry Widow
Where's the Beef?
One thing I noticed is the prevalence of non-Italian artists in major Italian roles. For instance, the female lead in many of the Met Opera broadcasts are to be taken by the likes of Sonya Yoncheva (Tosca, Mimì, Luisa), Olga Peretyatko-Mariotti (Lucia), Aleksandra Kurzak (Nedda), Ekaterina Semenchuk (Santuzza), Pretty Yende (Adina), Ermonela Jaho (Cio-Cio-San), Angela Meade (Semiramide), Anita Rachvelishvilli (Azucena), Susanna Phillips (Musetta), Martina Serafin (Turandot), and Guanqun Yun (Liù).
The same issue goes for the lower-voiced artists: Željko Lučić (Alfio), George Gagnidze (Tonio), Sir Bryn Terfel (Scarpia), Quinn Kelsey (Count Di Luna), Štefan Kocán (Ferrando), Matthew Rose (Colline), Alexey Lavrov (Schaunard), Ildur Abdrazakov (Assur), Alexander Tsymbalyuk (Timur), and Vitalij Kowaljow (Raimondo).
I've complained before about the mushy diction and indecipherable vowel sounds from some of the foreign artists engaged by the Met of late. While that's always a pet peeve of mine, I have come to the realization that it's unfair for me to judge a singer through a radio broadcast alone, when compared to that of a live performance.
There are so many factors that go into a theatrical presentation, intractable hurdles and variables of one kind or another (i.e. acoustics, venue, crowd response, orchestral and choral forces, and the like). So to criticize singers for poor delivery of the text — or not sounding Italian enough (or French, or German, or Russian, or what-have-you) — is just plain carping on my part. I will temper my views in the foreseeable future.
We should be grateful that opera, my favorite pastime (along with movies and music), is given at all these days, considering the current state of the art — that is, the sky-high cost implied in its production. Opera has always been, and will continue to be, an expensive proposition. It's an art form that demands huge financial outlays and extraordinary commitment. The reason for that goes back to the vast number of artisans, performers and musicians, in addition to stagehands and crafts people, involved in its implementation.
The world's greatest singers, conductors, producers, and directors are more than happy to participate in opera. That's why they are booked solid so many years in advance. The difficulties implicit in the conception, however, can be off-putting and frustrating to professionals as well as to non-professionals. Opera is no place for initiates, nor does it have time for amateurs or first-timers. Consummate artists and musicians are called for, which explains, too, the high cost of production. The time and investment required to reach their level of professionalism are astronomic and, despite the efforts, infrequently attained.
Yet opera can be as rewarding for the amateur as it is for those thoroughly trained in its intricacies. Keeping all this in mind, one can only hope for the best.
Will the Met hit a home run this season? Stay tuned for late-inning developments!
Copyright © 2017 by Josmar F. Lopes   
Advertisements