One way to think about an election is: who are the literal Nazis and Klansmen supporting? Maybe I should look elsewhere.— Christopher Hayes (@chrislhayes) November 1, 2016
More for your scrapbook, to bring out when the next generation asks (and they
will
 and should ask), "Where were you when Donald Trump rose to power? What were you doing? How did you respond? What was happening in our nation?" Many of the following tidbits are snapshots of who we are and what we're doing on the eve of a monumentally important election in the U.S. — perfect scrapbook items for that reason:
Washington Post
editorializes
: 
WHEN THE republic was in danger, where did you stand? History will ask that question of Republican leaders who knew that Donald Trump was unfit to be commander in chief.

Here is a complete list of Donald Trump's false claims over the last six weeks, sorted by category: https://t.co/h4BdWdZc6o— Daniel Dale (@ddale8) November 5, 2016
In Georgia, "KKK" and a swastika were painted on the route to the early voting site. https://t.co/ALqy4Hw2IC pic.twitter.com/RxfUtpFiR9— NYT Opinion (@nytopinion) November 5, 2016
North Carolina news anchor grips handcuffs during election polling segment https://t.co/2KR2GPLYXT via @HuffPostPol— Daniel Marans (@danielmarans) November 5, 2016
North Carolina GOP eliminated Sunday voting because "counties with Sunday voting were disproportionately black and Democratic" pic.twitter.com/G55KWY9EKD— Ari Berman (@AriBerman) November 6, 2016
Esme Cribb on the 800+ voting places closed
in the U.S. after the Supreme Court's
Shelby County v. Holder
 decision: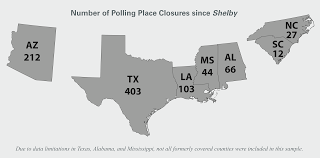 #NCVotesEarly polls closed at 1pm. This is how long the line is at 4pm @ the @ncsu site (1/2) #ncpol pic.twitter.com/fxsBVXgSTW— Doug Jackson (@Easy_Tyger) November 5, 2016
There is nothing inspring about pictures of long lines for people to vote. It's actually an indicator of municipal failure— Jason Johnson (@DrJasonJohnson) November 5, 2016
Breaking: federal court blocks NC voter purge, says voters must be added back to rolls https://t.co/jkNmKyKyBw https://t.co/2z0UD4U2gq— Ari Berman (@AriBerman) November 4, 2016
A reader of TPM Cafe telling
its editor Josh Marshall about how his "moderate" Republican (and evangelical Christian) aunt moved from saying, "Never Trump!," to justifying her vote for him: 
When I confronted her [my aunt] and my uncle about her broken promise, she said "we're not voting for Trump, we're voting against Hillary." I think this is how many Republicans are justifying their awful choice. They'll never admit that they'd voted for such an historically terrible candidate, but will always frame it as voting against something. This logic completely frees them of any moral responsibility for Trump, and they can argue that they never supported his horrifying behavior.
"Trump has electrified anti-Semites and racist groups across the country" @joshtpm https://t.co/1TfKAPvjof pic.twitter.com/CcyrKXokoQ— Paul B. Raushenbush (@raushenbush) November 6, 2016
Republicans don't want minorities to vote. Here's the proof. https://t.co/lzDEqQDCD1 pic.twitter.com/RVLKuOj19I— Esquire (@esquire) November 5, 2016
A guy in a Trump shirt carried a gun outside a Virginia polling place https://t.co/L91DE2kbUr pic.twitter.com/VuzLUJkvBb— HuffPost Politics (@HuffPostPol) November 5, 2016
Lots of attacks on me on this feed today that were pushed by Russian propaganda site Sputnik. Day after I wrote bout Russia hacks/disinfo.— Kurt Eichenwald (@kurteichenwald) November 5, 2016
.@jelani9's key insight is that for millions of Americans the election of Obama was a kind of national humiliation, to be redeemed by Trump. https://t.co/IjQJxzCauD— Jamelle Bouie (@jbouie) November 4, 2016
White evangelicals' views of Trump may be affected by lack of hearing about the candidate in church, via @PaulDjupe. https://t.co/YpEpplbUqo— PRRI (@PRRIpoll) November 4, 2016
Alan McCornick on whom
Trump has brought out of the woodwork: 
[W]e've gone from a time when people who believed "Hitler didn't go far enough" or "blacks need to know their place" or "Mexicans are rapists" stayed pretty much out of sight, and we all thought the KKK was nowhere to be seen any longer. 
Turns out we may have been wrong about that.  All it took was a Donald Trump to bring them out.
Donald Trump's closing ad has antisemitic overtones https://t.co/ypOm5OvYil pic.twitter.com/NVzvEeUVu6— Huffington Post (@HuffingtonPost) November 5, 2016
Please
see this footnote
to the posting above, with more tweets to add to your scrapbook.