Some people might tell you that this is the real Paris. As opposed to the fake Paris. The things is, Paris is Paris, and the beauty of the city is that every area has its own charm. In MontMartre, you'll fall in love with the narrow, winding streets, the eclectic mix of people, and the faint aroma of acrylic paints and turpentine in the air. In MontMartre, the charm is simply its creativity.
Everyone is totally artsy fartsy, darling and if you're not surrounded by bearded men painting colourful canvases at the Place du Tertre, you'll be surrounded by enigmatic-looking types and bohemian students picnicking outside the Sacré Coeur.
And if you're equally as pensive or brooding as the Montmartre Parisians, you'll be pleased to know that you are on the home turf of Jean-Pierre Jeunet's Amelie. And anyone who dares call themselves a romantic will have fallen head over heels for this French film.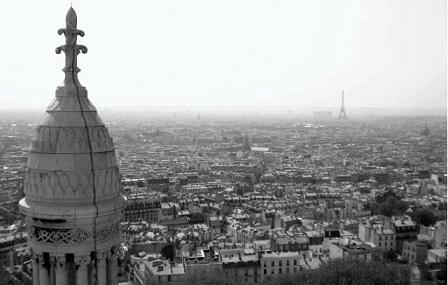 View from le Sacre Coeur, Montmartre
The World of Amelie in Montmartre, Paris
I played Yann Tiersen's J'y Suis Jamais Alle as I walked down the hill of Rue Lepic, where the famous movie bistro is located. Terribly pretentious, I know, but hey – we're in Montmartre now – it's acceptable to do artsy fartsy things and pretend the world will stop spinning without the sound of music.
You'll find the Café des Deux Moulins looking very much like it does in the film, and although Georgette's cigarette counter isn't there, the spirit of Amelie still is.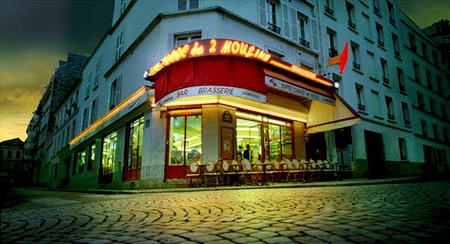 Cafe des Deux Moulins, Montmartre
The Charm of MontMartre Lives On
Montmartre isn't what it used to be; the old village charms has been washed away by the continuous current of tourists and French artists complain that they can't afford to live there anymore. Many people mistake "touristy" for "trashy" but it's simply not the case. It may not be the undiscovered gem that it once was, but Montmartre is a great place to people watch.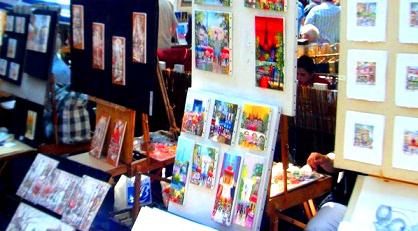 Place Du Tertre, Montmartre
Choose a nice spot in the artists' square (Place du Tertre), grab yourself a bottle of Heineken or a glass of Cabernet Franc, smoke a pack of Gauloises (or Vogue if you really can't resist the novelty) and watch the world go by as the painters flog their latest creations.
Montmartre, Paris, is a great place to drink and to shop, but mostly, it's just a fantastic place to walk around and soak up Parisian life.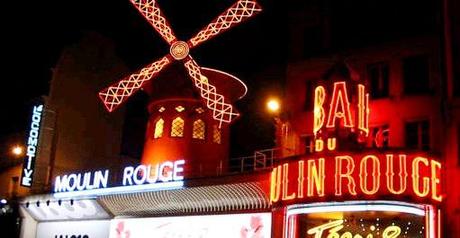 Moulin Rouge, Montmartre
Visit the big honey pots such as the Sacré Coeur, the Moulin Rouge, the Dali museum, the oldest can-can theatre in Paris (Elysees) and St. Pierre Church, but the best thing to do in Montmartre is to carry a map in your back pocket and just enjoy the little winding roads which look like something out of a story book.
Love Paris? Follow The Smart Girl's Travel Guide on Facebook and share your stories with me! x