%%bloglink%%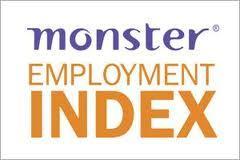 The job posting site Monster.com produces an index that attempts to measure the job market by tracking the change in online want ads. This index is updated monthly and is divided into 28 major metropolitan areas along with one national average.
Monster Employment Index – Los Angeles Market
Year-over-Year percentage change: November 2011 – November 2012
Overall Growth 21%!
By Occupation:
Management:  18%
Business and Financial Operations:  14%
Computer and Mathematical:  24%
Architecture and Engineering: 54%
Life, Physical, and Social Science:  22%
Community and Social Services:  15%
Legal:  10%
Education, Training, and Library:  -9%
Arts, Design, Entertainment, Sports and Media:  9%
Healthcare Practitioners and Technical:  61%
Healthcare Support:  10%
Protective Service:  32%
Food Preparation and Service: 42%
Building, Grounds Cleaning, Maintenance:  49%
Sales and Related:  32%
Office and Administrative Support:  9%
Construction and Extraction:  59%
Installation, Maintenance, and Repair:  24%
Production:  -2%
Transportation and Material Moving:  34%
About the Monster Employment Index
Launched in April 2004 with data collected since October 2003, the Monster Employment Index is a broad and comprehensive monthly analysis of U.S. online job demand conducted by Monster Worldwide, Inc. Based on a real-time review of millions of employer job opportunities culled from a large, representative selection of online career outlets, including Monster, the Monster Employment Index presents a snapshot of employer online recruitment activity nationwide. The Monster Employment Index's underlying data is validated for accuracy by Research America, Inc. – an independent, third-party auditing firm – to ensure that measured online job recruitment activity is within a margin of error of +/- 1.05%.