Guest post by Cristina from Chasing Travel.
As a child, my favorite book was Curious George. I must have read it at least a hundred times.
So when I set out on an adventure trip through Costa Rica's tropical rain forests, monkey-watching was high on my list.
Costa Rica is native to four species of monkeys but the most distinct is probably the white-faced capuchin or cara blanca with it's pink face. These little guys can live up to 54 years and grow tails as long as their bodies. They don't make it easy to spot in the rain forests so a telescope can come in handy. Sadly, monkeys are in danger of becoming extinct in Costa Rica from hunting or trapping. Luckily, the government now makes it illegal to keep wild animals, like monkeys, as pets – it's one way the country is helping to preserve native species and make sure they stay in their natural habitats.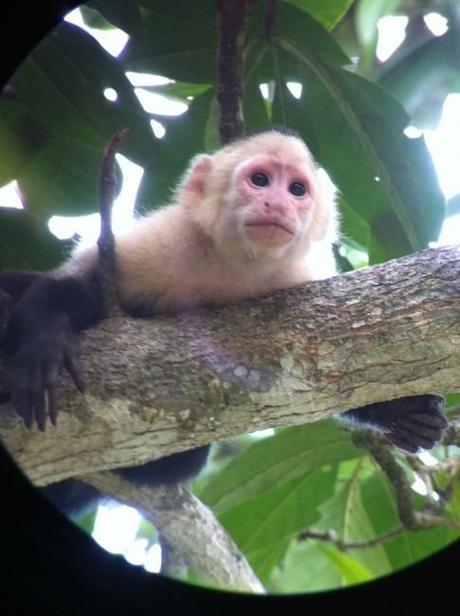 Our local guide tells me monkeys can be very affectionate but they can also be aggressive. Grinning or yawning is a warning sign they could attack but I always imagined monkeys as being quirky, playful animals with funny dances and hysterical laughs. I guess I imagined all monkeys could be like Curious George.
In Costa Rica, I stayed at a unique eco-lodge tucked away in the middle of a tropical rainforest. Sleeping in a rainforest offers some of the most serene sounds of nature and wildlife you could possibly imagine. It's like the jungle is singing you to sleep every night with sounds of owls howling, bats whisking by, and tweets of the Great Potoo but have you ever heard of what a monkey sounds like? On my last night, I remember laying on my hammock and watching the stars under the clearest skies I had ever seen. I suddenly found myself listening to a few silly monkeys going bananas at 3 in the morning.
Have you ever heard what a monkey sounds like?
Check it out here: Monkeys in the Jungle
About the author: Cristina is a 20-something TV journo who stopped chasing news deadlines to chase the globe. Chasing Travel is the experiential and local travel blog focusing on authentic, local experiences, and slow travel.  You can also follow her on Twitter.
&locale;&layout;&action;&width;&height;&colorscheme;