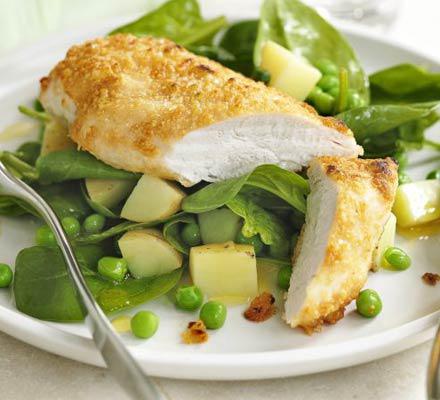 Not exactly an exotic dish for this week and after such a long absence. But we're so excited about Spring springing some sun into our damp grey lives that a seasonal dish seemed highly appropriate. It's a Parmesan Spring Chicken recipe:
You Need
1 Egg White
5 tbsps of finely grated Parmesan
4 Chicken Breasts (skinless)
400 gs of new potatos (cut into small cubes)
140g of frozen peas
Baby Spinach
1 tbsp white wine vineagar
2 tsps olive oil
I feel like chicken tonight (do they still make that?)
1. Heat grill to medium and line the grill pan with foil. Beat the egg white on a plate with a little salt and pepper. Tip the Parmesan onto another plate. Dip the chicken first in egg white, then the cheese. Grill the coated chicken for 10-12 mins, turning once until browned and crisp.
2. Meanwhile, boil the potatoes for 10 mins, adding the peas for the final 3 mins, then drain. Toss the vegetables with the spinach leaves, vinegar, oil and seasoning to taste. Divide between four warm plates, then serve with the chicken.
Takes about 20 mins. Nice and easy.