In a sharp rebuke of the Merkozy austerity programs, the French went with the guy who promises to tax the rich and the CAC has rallied 2% off it's low open as of 8am – indicating that the "bad" news in the French election was more than baked into the underperformance of the French market recently.  This is a "sell on the rumor, buy on the news" event - kind of like the 100% rally the US markets had after we elected that notorious Socialist, Barack Obama. 
As you can see from Dave Fry's chart of last week's action in France, the EWQ dropped 3.5% in aniticapation of the Hollande victory so we're not going to be too impressed by a 0.7% bounce that retraces 20% of the drop or even a 1.75% bounce, that retraces half the drop – if that's all there is.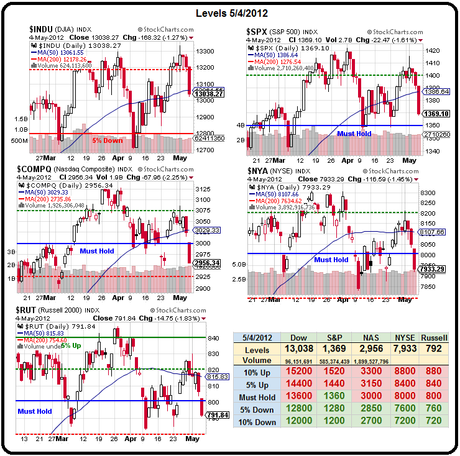 None of the structural issues that affect the EU are going away so we'll just have to dig a little deeper this week and try to get to the bottom of what's really driving the International Markets so get ready for a lot of Global Macro talk as we watch our own Big Chart levels to see what sticks and what doesn't as we test those Much Hold levels to — well to see if they hold, of course! 
S&P 500 futures gapped down 1% at the open following Hollande's victory in France and a poor showing by Pasok and New Democracy in Greece (regional elections in Germany didn't go Merkel's way either). German Dax futures were  -1.3% (now -.5%) and France's CAC 40 -1.5% (now +0.5%). The euro gaps down 70 pips to $1.3009 vs. the greenback, and £0.8059 vs. sterling, the lowest level since late 2008.
Exit polls in Greece show the 2 pro-bailout parties garnering just 32% of the vote, maybe not enough to form a majority government. It's a shocking fall for Pasok and New Democracy, which together claimed nearly 80% of the vote in 2009. "The exit polls confirm … there's no political consensus for the kind of reforms Greece must implement if it wants to remain in the eurozone," says Nicholas Spiro.  This is not something that will be resolved quickly, as long as the future of the Euro is in quesiton - we are going to continue to see volatility in the markets.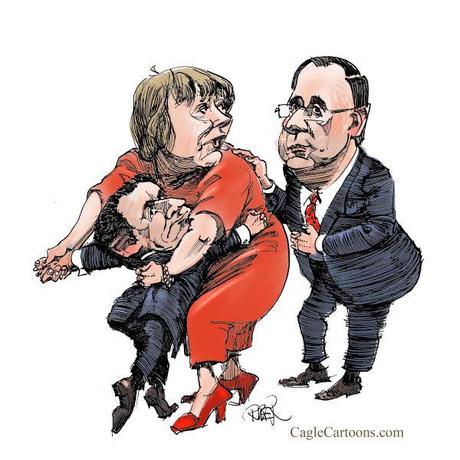 At Berkshire's annual meeting this weekend, Warren Buffett told the tens of thousands of shareholders packed into the CenturyLink Center in Omaha, Nebraska, that while America's financial institutions were far healthier than during the financial crisis, he still feared for the health of Europe's banks.  Hong Kong (-2.3%), Japan (-2.5%), and Australia (-1.5%) fell sharply this morning, with about half the decline a catch-up to Friday's big drop in the West, and half a knee-jerk reaction to today's election results in Europe.  
Kick over the wall   cause governments to fall
How can you refuse it?
Let fury have the hour, anger can be power
D'you know that you can use it?The voices in your head are calling
Stop wasting your time, there's nothing coming
Only a fool would think someone could save you
This is not the end folks, this is only the beginning of a change that is sweeping across the World – these are stunning defeats of the status quo by people who are finally as mad as Hell – and they are not going to take this anymore.  Brushing off what's going on in Europe as isolated incidents is a big mistake - but it's one the Corporate Media in the US is already trying to shove down your throats as the focus on the minutia today, rather than on what's really going on in the World.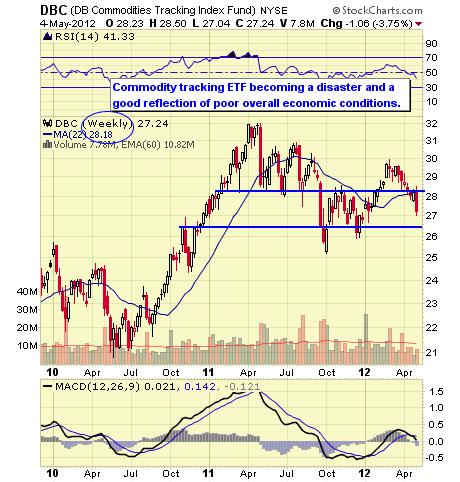 Geman Factory Orders, for instance, were up 2.2% - IN MARCH!  To hear it on CNBC, you would think they can't make stuff fast enough to keep up with demand but it's still DOWN 1.3% from last year.  That's the story you'll hear about today.  What you won't hear is that Spainsh Industrial Production FELL 7.5% in the same month, their biggest declines since October 2009. 
US Consumer borrowing rose by $9.65Bn in March as our own consumers struggle just to put gas in the tank.  Berkeley's Laura Tyson is worried that if the workforce doesn't keep up with technology, wage inequality will widen further, structural unemployment will increase, and America will be less competitive. More must be invested in training and education, she says – but projected cuts at all levels of government threaten the relevant programs.
These problems don't get fixed overnight.  We'll see how resiliant our markets are going to be this week in the face of adversity but we'll mostly be watching those technical levels and we're not going to be impressed until we see some real progress.