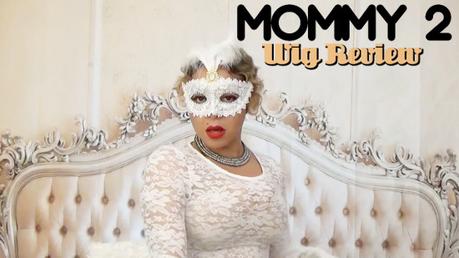 Back to the Mommy Wig 2…
The mommy wig is everything but "mommy-like". It's sassy. It's funky. It's a classic beauty. It is a 100% human hair unit. You can do whatever you like with this hair and it will last and last. The unit does come with giant finger waves (or finger rolls). You can choose to wear the wig as is. Or, you can jazz it up a bit by finger combing the hair for a more tussled look. I also added water to make the curls a bit more defined.
Wanna juke with me at the juke joint?
I've always wanted to do a masquerade party. And I've always wanted to do a throwback look to pay homage to the blues/juke joint era. I fell in love with the idea ever sine the infamous juke joint in the movie The Color Purple. So today I merge the 2 genres and I got this! I had so much fun reviewing Mommy Wig II and creating this week's post for you guys. The masquerade masks just sealed the deal in my opinion.
Youtube Wig Review – Mommy 2
Short, Ombre, Natural Style
This is a full cap unit so there is no need to remove lace. Yes! There are 3 combs to secure the Mommy Wig 2: 1 in the back and 2 at the crown area. I had no issues with the cap size. I'd say it runs a bit bigger than most wigs. It comes in a variety of shades. I went with an ombre style which had a dark brown and blonde combo.

It's Just So Hollywood
You can have tons of fun styling the Mommy Wig from Janet Collection. She is great for costumes, dress-up parties and even Halloween. It's such a classic Hollywood look that can be compared to both Halle Berry and Marilyn Monroe.
Don't Forget!
Stay social. Follow the GRW page on facebook, twitter and instagram. You can also find my latest videos on youtube. Be sure to let me know in the comments below what you think about this not-so-mommy-like wig.