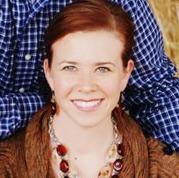 Farrah is a new expat mom of 3 young boys and tries to jot it all down on her blog The Three Under. Her family just moved to a small village in the Netherlands and they're trying to survive this adventure without offending the entire EU. Find her on Facebook at The Three Under and on Twitter at @Momofthreeunder.
It's difficult for me to explain exactly how I'm feeling this holiday season. At first, I thought I might discuss how hard it was going to be living so far away from family this Christmas, or being in a strange new house and a colder climate – or not having our traditional decorations and our usual 'things' this time of year. Or even that crazy Target lady and her commercials. I'll admit it – I miss those.
But, being here in the Netherlands now for the past month, I've learned a few things. Sure, we're dealing with all of the above. Sure, we're doing it with a three-year-old and twin two-year-olds. But the most bizarre thing about this Christmas is that I am in the land of Crazy Non Politically Correct Christmas. Like Christmas is on E over here. It's not in-your-face commercialized, but it's…whoa.
First, we arrived at the beginning of November – just as the very, very popular 'Sinter Klaas' was getting ready to arrive via ship from Spain with his helpers. Personally, I was just feeling really out of the loop missing Thanksgiving, but, to add to it, I was apparently missing out on the tradition and background of Sinter Klaas and his crew who appear to be in blackface.
What?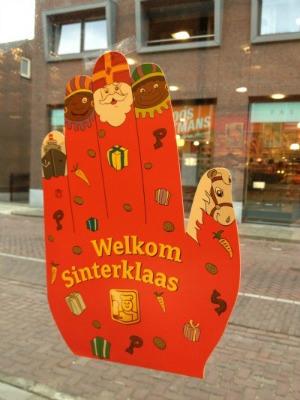 Okay. Let me back up. First and foremost, Christmas is THE biggest holiday of the year in the Netherlands. Shop and boutique windows are adorned, but all with a very personal feel – until you start to see the character of Zwarte Piet and think to yourself, What is going on here?
Before we left the states, some Dutch friends on Twitter told me to prepare myself for this whole Zwarte Piet thing. They told me it wasn't meant to be offensive or insulting, that he is a beloved character and regarded quite highly. I, however, took one look at the photos and just went 'Um. Oh. Uh…' when seeing the people dressed in blackface, colorful silk suits, and feather plumed hats. Every year, I am sure that people unfamiliar with this tradition (such as myself) feel the same way when confronted with this very non-PC expression of the holidays.
Very non-PC indeed.
Basically, the story goes like this: Sinter Klaas arrives via ship from Spain with his group of very dark skinned helpers (I have also read that they become black due to the amount of soot that they pick up in the chimney) on November 19th. They go around giving dark gingerbread-like cookies to children (that mine are now addicted to eating) and throw candy at people. Sinter Klaas, however, is not to be confused with Santa Claus- because he exists, too. It's all a bit confusing, but I am trying to keep the focus on Zwarte Piet and his companions.
The Zwarte Piet costume aside – what really threw me was the day I went to pick up B, and he was dressed as Sinter Klaas, who actually looks like some kind of medieval pope or bishop. To this very laid back, low-key religious mom, I was indeed thrown for a proverbial loop. How do you explain this to 2 & 3 year olds? They don't even understand that this IS offensive.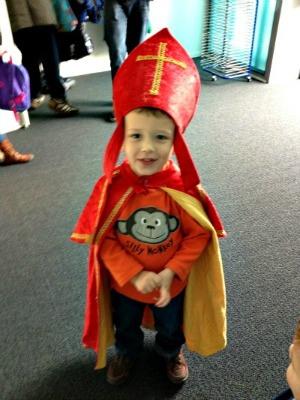 Not to be outdone, Germany has its own type of terror to instill into children this time of year. My friend Carrie is married to a German. She told me about their tradition of the 'Krampus' or 'Grumpus'. Basically, that is a horrifying troll/goat-like creature that is sent to take away the naughty children during Christmastime.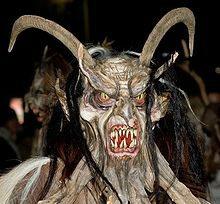 So, yeah. Many of us may be rolling out eyes this holiday at the overabundance of Elf on the Shelf contortions- but, be thankful that we do not have ghastly trolls or people dressed in blackface, throwing candy at your kids.
Christmas is Christmas, and it's more than a hundred trips to Target and wrapping gifts. There are traditions and cultures that we share and pass down to our children without realizing the influence these traditions will have on them as they grow older. I'm sure we will make memories to rival some of the things that we have since seen over here – but I am almost afraid to imagine what they might be.
How would you explain these traditions to your kids?