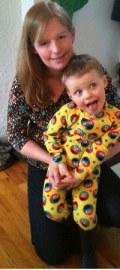 Anna hasn't slept through the night in four and a half years. She chases her spirited preschooler and joyful toddler around the parks and beaches of Vancouver Island and is brand-new to the blogging world. Favorite things include: going to the bathroom alone, eating chocolate in bed, and vacuuming up pieces of Lego just to hear that satisfying sound. She blogs at Murphy Must Have Had Kids.
I love Christmas. I always have. After experiencing it with my 4-year-old son and 18-month-old daughter, I love Christmas even more.
If you're sick of the commercialism of Christmas and think it has lost its meaning, I have a dare for you. If you've had a rough year, feel jaded, or wish you could just skip Christmas this time around, try this first.
Find a toddler or preschooler to borrow for a few hours in December.* Said child should be between one and four years old. Put your shopping list away. Leave your VISA and debit cards at home. Put your phone and watch away. Prepare to live in the moment…the toddler's moment.
(*Make sure to bring the child's mom or dad along too. No need for a pre-Christmas kidnapping charge.)
Choose an item  from the list below:
Go to the mall and sit your child on Santa's knee. If your little one is terrified and screams, leave Santa and try the next suggestion.
Walk though the Christmas tree section of a department store with no agenda other than to watch your child's face. Let them touch the trees, lights and ornaments (carefully). If they start grabbing and/or throwing things, it's time to leave.
Plug in a string of Christmas lights in a dark room. Let your child ooh and ah and touch the lights. Plug in seven more strings. The really old lights that get super-bright and a little warm are the best (under supervision, of course).
Give your child some coins to put in a Salvation Army Christmas Kettle. Make sure they don't take any coins out. Toddlers love small, shiny things.
Make a fire (preferably in a fireplace) and just sit and watch. If you don't have a fireplace the Holiday Fireplace channel will do.
Get a tree (real, if possible) and decorate it (while continually preventing your toddler from un-decorating it). When you are finished, lie underneath it and look up at the lights.
Make hot chocolate. Put whipped cream and sprinkles on it. Watch the look on your child's face as s/he takes the first sip.
Have a loud, off-key Christmas carol sing-a-long. Don't forget the plastic microphones.
Find a small nativity scene and set it up so your child can act out the first Christmas. Let them add "extra" characters just for fun. Who says My Little Ponies can't visit baby Jesus?
Download Andrea Boccelli's Christmas Special and watch him sing "Jingle Bells" with The Muppets. Be prepared to watch it again and again and again.
If you do even one of these things with a little one, I guarantee your view of Christmas will change. Seeing Christmas through a child's eyes is the way it's meant to be seen.