It had been labelled as one of the great duels of the Games and so it was. On the early evening of Friday, November 23rd, Soviet runner Vladimir Kuts and Great Britain's Gordon Pirie squared off in the 10,000 meters final and delivered a race for the ages. In the end, Kuts took home the gold with Pirie finishing merely eighth - but the duel had been much closer as the result seemed to indicate (picture: racingpast.ca).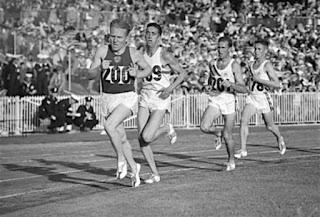 Kuts had won the 5000 meters at the 1954 European Championships in Berne, Switzerland, spoiling the anticipated showdown between Emil Zatopek bad Christopher Chataway. Pirie had clocked a new 10,000 meters world record in Bergen, Norway in the summer before the Melbourne Games. With Hungary's Sandor Iharos out after the revolution back home, the stage was set for Kuts versus Pirie.
As expected, the race - starting at 6:00 PM on the sandy track at Melbourne Cricket Ground - became the classical encounter between a frontrunner and a finisher. Kuts led from the beginning, trying to destroy his opponents with continuing intervals of acceleration and slowing down, while Pirie followed in his footsteps. This continued for 21 of the 25 laps, until both runners had virtually run out of gas, which even Kuts admitted later. But the 29 year old navy officer from the Ukraine had one last sprint left in his tank. While Kuts raced to gold seven seconds ahead of Hungary's Jozsef Kovacs and Allan Lawrence of Australia, Pirie dropped back to a disappointing eighth place.

"He murdered me - that's all there was to it", Pirie later told the home press, who put him under crossfire. Meanwhile, Kuts sent his coach Grigorij Nikiforov to talk the media, while giving an exclusive interview to his wife Raissa, who worked as a journalist. The man who was often criticized as a "race robot" and was later even connected to doping allegations by the flamboyant Pirie, was in fact no one-dimensional race horse, but a great tactician with unprecedented stamina. Kuts proved all his critics wrong five days later when he also won the 5000 meters. In this race, Pirie finished second.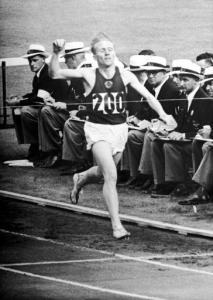 News of the day: Charles Dumas (USA) grabs the gold in the men's high jump, while Czech Olga Fikotová wins the women's discus throw +++ Americans Charles Vinci (bantam weight) and Isaac Berger (feather weight) earn the first two golds in weightlifting +++ The fencing team from Italy becomes Olympic champion with the men's foil.