LONDON — Kristin Armstrong was pedaling as fast as she could long before hopping on her bike to go for a ride Wednesday. There were clothes in the dryer. A young child named Lucas to feed. And, by the way, another Olympic medal to win.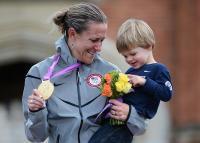 Armstrong struck gold in the name of super moms everywhere.
Can you be an Olympic champion and still have a life?
At age 38, Armstrong knows the thrill of a high-profile career and the guilt of multitasking motherhood.
With a decisive victory in the road-cycling time trial, she sent a message you don't often hear from the Summer Games: Being No. 1 isn't the only thing. It pales in comparison to rounding that final curve on the road home, when Armstrong transitions back to mommy mode.
After her work was done, the 18 miles covered along the River Thames at an average speed of 46 miles per hour, Armstrong had gold around her neck and a toddler on her hip.
Nearly 50 mph? On a bike? Your mom is crazy, Lucas.
It was a productive errand, though. After covering the course more than 15 seconds faster than second-place finisher Judith Arndt of Germany, Armstrong had a shiny, gold toy she believes her son will enjoy playing with on his upcoming second birthday.
OK, so there aren't enough hours in the day to actually have it all. But success is also better savored when shared. Armstrong reminds us a career doesn't have to be a single-minded obsession.
two-time Olympic champion cyclist and often confuse her with you know who. Didn't Lance once have a wife named Kristin?
He did. But this is a different woman, one who really isn't all about the bike.
In 2009, after taking home gold from China in the same time-trial event, Armstrong hung up the road bike in the garage and decided to start a family. Lucas was born 22 months ago. But the itch to ride didn't go away. So she hopped out of retirement to get back on the bike saddle again. And because you asked, yes, Armstrong felt guilty leaving the house before dawn as her baby slept.
"When I came back, everyone asked me why in the world I would come back," Armstrong said. Answer: A 30-something mother wanted one more hit of the adrenaline rush you get only from crossing the finish line at the Olympics. Armstrong couldn't envision anything topping that.
Read More on this Amazing Mom and Baby Success Story